2012 Buick Regal with eAssist at 2011 Chicago Auto Show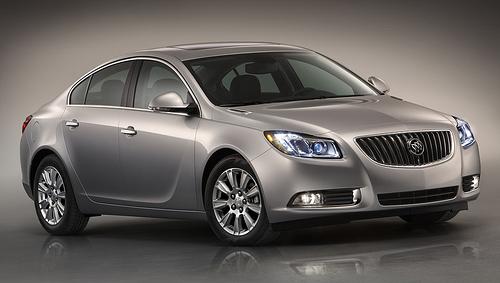 Competes with: Acura TSX, Volkswagen CC, Lincoln MKZ Hybrid
Looks like: Buick doesn't like the word "hybrid"
Drivetrain: 182-hp, 2.4-liter four-cylinder and 15-hp electric motor with a six-speed automatic transmission
Hits dealerships: Fall 2011
As Buick continues to redefine itself as an upscale automotive brand, there's also a growing emphasis on fuel efficiency for the automaker. The Los Angeles and Detroit auto shows brought us the Buick Verano compact sedan and a standard mild-hybrid system for the LaCrosse. That same hybrid system can also be found in the 2012 Buick Regal.
Dubbed the 2012 Buick Regal with eAssist, the German-derived sedan will get GM's next-generation mild hybrid technology as an optional powertrain. GM says the model is capable of 26/37 mpg city/highway, which is 1 mpg better in city mileage than the larger LaCrosse.
Compared with Buick's self-defined competitors — the Volkswagen CC (22/31 mpg) and the Acura TSX (22/31) — the Regal is much more fuel efficient. It doesn't beat the Lincoln MKZ Hybrid (41/36); however, the Lincoln will probably cost more than the eAssist Regal.
The new powertrain combines a traditional four-cylinder, an automatic transmission and GM's new mild hybrid system. It's nearly identical to the system found on the entry-level 2012 LaCrosse. EAssist comes equipped with lithium-ion battery packs, a small 15-horsepower electric motor, regenerative braking, a fuel-cutoff system and start-stop technology, which achieve a 25% fuel-economy gain over the 2011 Regal equipped with the 2.0-liter four-cylinder with a manual (20/32 mpg).
The new lithium-ion battery pack compromises trunk space on the Regal eAssist. It's now at 11.1 cubic feet versus 14.25 cubic feet on a regular Regal. That's pretty small, though nearly on par with the 11.8 cubic feet found in the MKZ Hybrid. The eAssist still has folding rear seats, but the passenger-side rear seat is blocked by the battery pack.
Unlike the LaCrosse where the hybrid technology is standard, the Regal's hybrid system is optional. For the 2012 model year, there's also a high-performance Regal GS as well as models with a 2.4-liter and 2.0-liter turbo powertrain options.
On top of the hybrid system, the Regal with eAssist comes with unique 17-inch wheels with low-rolling-resistance tires, an air-conditioning system with fuel-economy mode, an Eco gauge on the instrument cluster and a 7-inch display that shows hybrid functions.
The car will debut at the 2011 Chicago Auto Show and goes on sale this fall.