2012 Dodge Charger SRT8: Up Close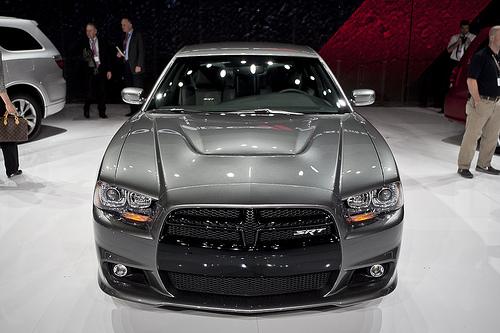 The 2012 Charger SRT8 looks commanding upfront. Kudos to Dodge for reshaping and repainting the front bumper, creating visual continuity between the grille and lower air inlet. The rear isn't as inspiring; it has a lot of different surfaces at odd angles and the results look slapped together. I've never thought Chrysler's full-size sedans wore a rear spoiler well, either, and the Charger SRT8 is no different.
More 2011 Chicago Auto Show Coverage

However, these are minor things when you consider the 465 reasons to want this car. That's the number of horsepower the 6.4-liter beast of a Hemi V-8 makes. Want one more? In the time it takes you to read this paragraph out loud, the SRT8 does the quarter-mile.
The sport seats feel a lot like the ones in the last Charger SRT8, so they ought to provide plenty of lateral support in sweeping corners. I hope the metal-and-leather steering wheel makes it into all of Chrysler's SRT products. It has a thick, flat-bottom rim and thumb grips at 3 and 9 o'clock. Very cool. The paddle shifters sit adjacent to the stereo's seek/volume buttons. I predict most drivers will mix the two up … exactly once.
Introducing a car with over-the-top power has been a dubious exercise in the past half-decade, representing reckless waste in a world turned green followed by needless extravagance in a world turned broke. I can't vouch for fuel efficiency; Chrysler says this will be a little better than before, but that's little reassurance given the old Charger SRT8 got an EPA-estimated combined 15 mpg.

Instead, look forward to this: In its final year on the market, 2009, that Charger SRT8 ran $38,970. Even if the 2011 Charger SRT8 eclipses $40,000, which it probably will, a full-size sedan with this much power for that sort of price is in a class all its own.