Mercedes-Benz mbrace Plus: Worth the Cost?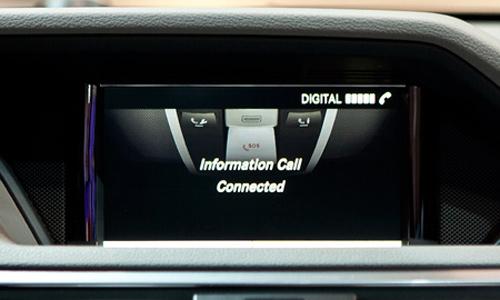 Kevin Link, marketing head at Hughes Telematics, punched a button in the overhead console of a Mercedes-Benz E-Class wagon. He was in the driver's seat; I sat shotgun. It was around 11 a.m. on the second media day at the 2011 Chicago Auto Show, and a few journalists still trolled the Mercedes display outside our car.

Moments later, the E-Class patched through a perky operator. She asked Link what he'd like. He wanted coffee. She sent directions to the nearest Starbucks to the car's navigation system. Anything else?

I pitched a curveball: Say, what's Google stock running at right now? Could we buy some shares?

A moment of silence.

She piped up: "As of 10:54, I have the price of Google at $613.39, which is down $3.06 today."

"Would you like to buy any?" Link said, grinning. Not right now, I replied.

So it goes with Mercedes' mbrace Plus.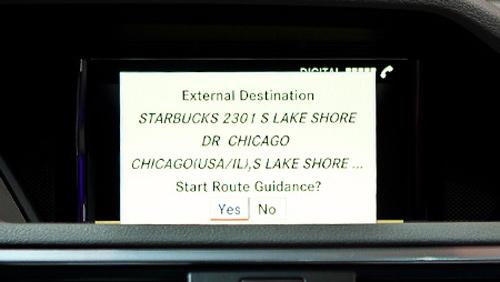 Link said the communication service's headlining feature, Mercedes-Benz Concierge, connects you to the same concierge service American Express Centurion cardholders receive. Atlanta-based Hughes Telematics is the architect behind mbrace, which succeeded Mercedes' Tele Aid service in late 2009.
The mbrace Plus service slots above basic mbrace, which has the usual suite of features: stolen-vehicle tracking, roadside assistance, collision response and remote unlocking. It also offers send-to-car directions. Getting 24-hour access to a concierge, who can find everything from nearby restaurants to next-morning flights, requires mbrace Plus.
Many Mercedes models have the service standard. It's optional on the E-Class coupe and convertible, as well as the C-, GLK- and R-Class. Get a car thus equipped, and you'll get six months of complementary mbrace service, the first three of which include mbrace Plus. Beyond that, it's $280 a year for mbrace and $520 a year for mbrace Plus. (The $520 includes all the features of mbrace, which is a prerequisite for mbrace Plus.)
Neither plan is cheap; competitors' telematics packages run a year or longer before charging for the service. Even then, the annual premiums are less: BMW Assist and Cadillac's OnStar cost $199 a year, and Lexus' Safety Connect is about $140. Pony up around $265 a year for Lexus Enform, $299 for Cadillac's OnStar Directions & Connections or $398 for BMW Assist's Convenience Plan and all three add 24-hour agents who can route you to nearby points of interest. BMW claims a broader array of services, like making restaurant reservations and providing flight info.
I asked spokesmen from Lexus, BMW and Cadillac if their representatives can go as far as booking those flights. All three said no.
Mercedes' agents can, but don't mistake them for full-fledged personal assistants. Brick-and-mortar concierges can do everything from grocery shopping to holiday decorating – for a price. I looked up concierge services near Cars.com's Chicago offices, and three local companies charge $30 to $35 an hour. Use them frequently, and the annual bill could spiral into the thousands. Compared to that, mbrace Plus, whose flat annual rate includes unlimited access, is cheap.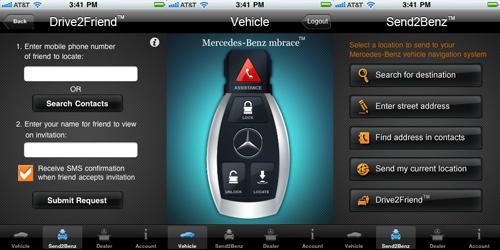 Mercedes offers mbrace Plus via iPhone and Blackberry apps, with services like a vehicle locator, remote unlocking and, on the iPhone app, mobile concierge access. In the coming weeks, the automaker plans to roll out a third-generation iPhone app with a feature called Drive2Friend, which allows you to navigate to another individual's location via cell phone triangulation. That means no more waiting for your husband to ask the waiter for the address of the restaurant he's at. You enter his number into the Drive2Friend app, and once he replies "yes" to a form text from Mercedes, the directions to his location are sent to your car's navigation system. Drive2Friend is included with basic mbrace coverage, and Hughes Telematics says pricing won't change.

Like most telematics systems, mbrace and mbrace Plus have dramatically less appeal if you don't get a navigation system. With mbrace Plus, you can get directions to your destination from a customer service agent, but you'll have to write them down, or ask the agent to stay on the line as you navigate to your destination. OnStar's Directions & Connections service packs a more elegant solution, allowing for turn-by-turn directions to scroll across a gauge or stereo display in navigation-free vehicles.

OnStar also offers vehicle diagnostics, where a telematics system can diagnose check-engine lights and more. Right now, mbrace does not: "We've got new hardware coming out," said Christina Yarnold, Hughes Telematics senior product manager. "We will be able to do some of that."

When Hughes Telematics surveyed Mercedes owners' smartphone preferences in 2009, Blackberrys and iPhones topped the field, Yarnold said. Android and Windows phones have since taken a growing slice of the pie, and she wouldn't rule out future integration with both platforms. Regardless what cell phone you have, mbrace's in-car capabilities remain the same; none of them are tied to your phone's capabilities or service plan.

Ultimately, those capabilities represent a middle ground between point-of-interest-focused operators and full-fledged personal assistants. And some owners may find it worth the cost.

Take the episode in the E-Class. Had I been the owner and equipped my account with a four-digit PIN and credit card number, the concierge could have purchased as many Google stocks as I wanted and then booked a flight to the Bay Area and reserved a table at CEO Eric Schmidt's favorite restaurant for a sit-down with my new investee. (I doubt I'd get an audience.)

"Imagination is the limit," Link said. "Anything that an agent can do, you can do in the car."