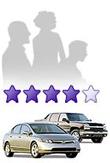 The 2011 Chrysler 200 hasn't been on sale for very long, yet this reader has managed to own two (two?) of them already. "Turned onto 200" of Sunrise, Fla., was so smitten with his V-6-equipped 200 Touring company car that he bought a Limited trim model for home use. To find out how it performs at two very different tasks — commuting and errand running — continue reading below. Once you're done, write a review of your own car here.
"Very happy to have a position where I was awarded a new car for my work travels. Unheard of these days. I had a choice of several makes and models and chose a nicely equipped V6 200 Touring model.
"I needed to replace our old but faithful high-mileage Mercury Montego so decided to go with a 2011 Limited sedan for family use after several weeks of experience with my company car.
"Both Chryslers are very well put together. One is used primarily on highways, the other for mixed city and expressway driving. The all-new six-cylinder provides brisk cruising and is silky smooth, quiet and achieves nearly 35 miles/gallon on the Florida Turnpike. The new 200 is roomy, comfy, and full of an array of creature comforts like heated seats and nicely appointed luxury car-like cloth seats or leather interior that rivals that of a Lexus.
"I strongly recommend the navigation system with media package. Everything is easy to use, straight forward and uncomplicated, another reason for my choice in adding a second 200. We have no complaints and take pride in buying an American-made car again. Twice."
2011|Chrysler|200