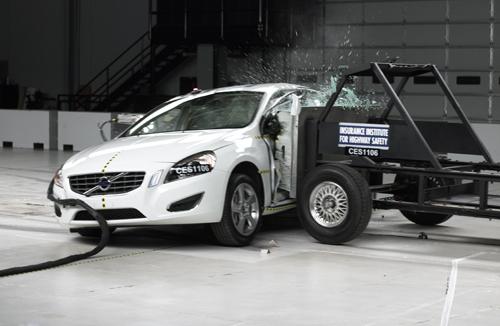 The 2011-12 Volvo S60 received the Top Safety Pick designation in the midsize luxury/near-luxury category from the Insurance Institute for Highway Safety.
To earn the award, a vehicle must receive the top rating of Good in front, side, rear and rollover crash tests. The vehicle also must have electronic stability control, which is standard on the S60.
Measurements taken during the S60's testing show a low risk of significant injury in a 40-mph frontal-offset crash. Head movement was well-controlled during the crash — reducing the possibility of a neck injury. During side-impact testing, the driver's and rear passenger's heads were protected from the 3,300-pound deformable barrier traveling at 31 mph (shown above).
To pass IIHS' roof-strength test, a vehicle's roof must be able to withstand the force of four times the vehicle's weight.
The S60 can withstand 4.95 times its own weight. The 2005-09 Volvo S60 also had Good ratings in front and rear crash tests, but it only had the second-best Acceptable rating in the side crash test. The previous model did not go through the roof-strength test.
The S60 joins four other Top Safety Picks from Volvo, the XC60, XC90, C30 and S80.