35% of Ford F-150s Now Equipped With V-6 Powertrains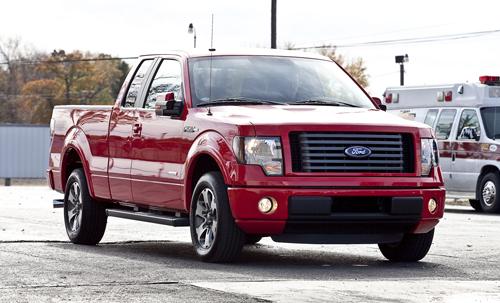 For 2011, the Ford F-150 lineup goes from having no V-6 powertrains to having two: a top-of-the-line 365-horsepower, 3.5-liter EcoBoost engine and the base 302-hp, 3.7-liter V-6.
So how are the powertrains faring with pickup buyers? The two engines make up about 35% of F-150 sales, according to Ford. That's up from 0% last year. The last time Ford sold a V-6 equipped F-150 (back in 2008) it made up 11 percent of sales, according to Ford spokesman Said Deep. That's also better than crosstown rival Chevrolet, which focuses more on its 5.3-liter V8, according to Chevy spokesman Tom Wilkinson.
The EcoBoost model is one of the fastest-selling trucks in the F-Series lineup, Ford says. The EcoBoost model went on sale this past winter; the 3.7-liter V-6 has been on sale since late last year.
The EPA has labeled the F-150 with the 3.7-liter V-6 as the most fuel-efficient full-size truck; it's rated at 17/23 mpg city/highway and 19 mpg combined. Chevy's V-6 Silverado is rated at 15/20 mpg, and the Toyota Tundra V-6 is rated at 16/20 mpg.