BMW Vision ConnectedDrive Concept at 2011 Geneva Motor Show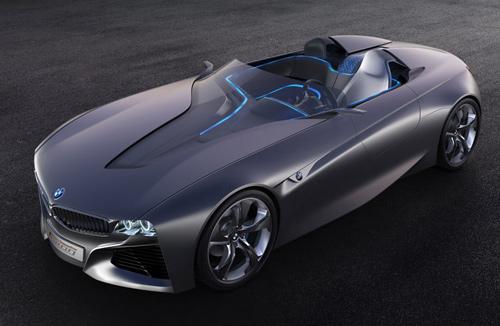 Looks Like: A raft of interesting technology wrapped in a bizarre exterior
Defining characteristics: No roof; a windshield that no auto glass shop would touch
Ridiculous features: A navigation system with an "Emotional Browser" (yes, really) that can give audio-visual tours of your surroundings
Chances of being mass-produced: Odds are better that gas prices don't rise before your afternoon commute
BMW rolled out an array of user technologies in its Vision ConnectedDrive concept at the Geneva International Motor Show this week. Many involve the automaker's ConnectedDrive initiative, a suite of telematics and online services that provide in-vehicle access to the world outside.

The concept car underpinning it all looks like a lot of things — few of them any recent BMW. The tail has similar deck-lid nacelles as those on the defunct Porsche Carrera GT, and the nose looks to be BMW's take on a Detroit muscle car. There's no roof, and the windshield blends into the hood in a sort of way that could make a spider fracture seriously expensive.

No matter. Inside, driver and passenger technology includes a three-dimensional head-up display that can project, for example, an upcoming right turn on the street as it approaches. Onboard instruments can be arranged in a number of free-form ways, and a display for the front passenger includes an online module that allows the passenger to find a new address and send it over to the driver's display — addressing an inherent constraint of most navigation systems that lock out any sort of involved operation while the car is moving.

We're not so sure about the Emotional Browser, which BMW says can do everything from playing the music selection at a nearby cafe to issuing an audio tour of your surroundings or showing the exhibits on deck at the museum across the street. It seems useful for Sunday meandering — because we all have time for that — and less so if you're just trying to get to work.

Odds are slim that a car like this makes it to production, but certain technologies could always filter down. More photos below.