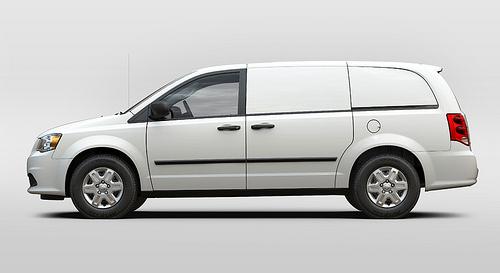 Ram unveiled its new 2012 C/V cargo van at the 2011 NTEA Work Truck Show today, and PickupTrucks.com's Mike Levine was there, where he also caught up with these other developments.
The Ram cargo van should look familiar; it's the 2011 Dodge Grand Caravan with modifications to the inside and the suspension.
The commercial van features sliding rear doors and metal panels on the rear windows instead of glass, though glass is available.The second- and third-row seats have been replaced with a rugged aluminum flat load floor that can have optional Stow 'n Go bins underneath it. The van features the new 283-horsepower, 3.6-liter V-6 that's standard on the updated Grand Caravan.
The suspension has been retuned for heavy-duty loads and maximum hauling capability. The van can tow 3,600 pounds.
No pricing has been announced, but the 2011 Dodge Grand Caravan C/V starts at $21,800. Ram also might add another commercial van to its fleet, derived from either the Fiat Ducato or Fiat Doblo vehicles, according to Levine. There are no official mileage estimates, but Ram execs say the C/V should be able to go 500 miles with its 20-gallon gas tank.
For more information, go to PickupTrucks.com.
First Look: 2012 Ram C/V Cargo Van (PickupTrucks.com)