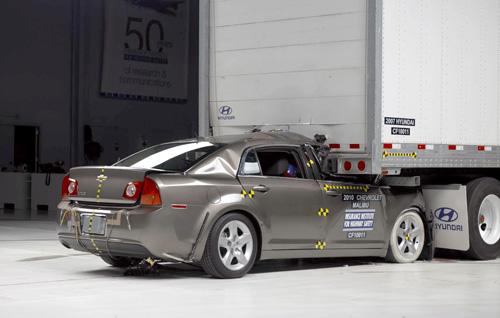 Even when your vehicle earns top marks in government or insurance crash tests, it's important to know that your car remains vulnerable to unusual types of accidents.
The Insurance Institute for Highway Safety chillingly has illustrated this fact through a series of tests in which passenger vehicles rear-end the backs of some of America's most popular tractor-trailers.
The study concludes that it's not the passenger cars but the tractor-trailers that fail to keep passengers safe. Oftentimes, the guard rails on the back end of trucks failed basic requirements even though the rails were certified to U.S. and Canadian safety standards.

In many instances, the 2010 Chevrolet Malibus would underride the trucks when the guard rail failed, causing encroachment into the interior compartment of the passenger vehicles. Underride occurs when a vehicle's front end (or more) slides underneath another vehicle, typically in rear-end collisions. When underride occurs, decapitation is a serious threat to passengers and the driver, as the above photo illustrates.
The 35-mph rear-end collision test of a 2010 Chevrolet Malibu — which is an IIHS Top Safety Pick — and a trailer designed by Hyundai Translead led to the trailer's underride guard to bend forward and break, causing the worst performance of any trailer tested in a head-on rear-end collision. Hyundai Translead claims to be a leading provider of various trailers and domestic container carriers in the United States. The IIHS said it chose to test Hyundai, Vanguard and Wabash trailers because they are the most common trailers on the road.
Offset tests, in which the car and the truck overlap by 50% or 30% at 35 mph, showed that even the strongest guards are effective only when a car engages from dead-on center. (The below photo is of an offset test.)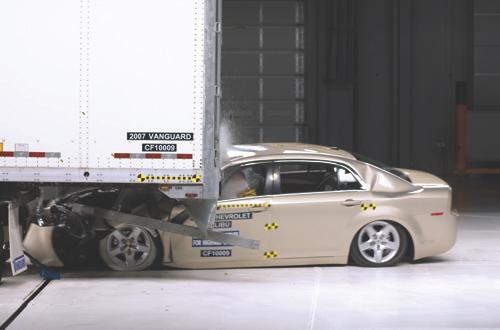 IIHS would like to see safety standards improved and regulatory gaps mended to improve safety. Current regulations allow many trucks to forgo guards altogether, according to IIHS. Right now, safety standards don't require that the underride guard rail, trailer, bolts and welding application be tested under one system. IIHS would like to see a more cohesive test.
According to the National Highway Traffic Safety Administration, an estimated 423 people in passenger vehicles die each year when their vehicles strike the backs of large trucks; nearly 5,000 are injured.