Porsche 918 Spyder Plug-In Hybrid: First Look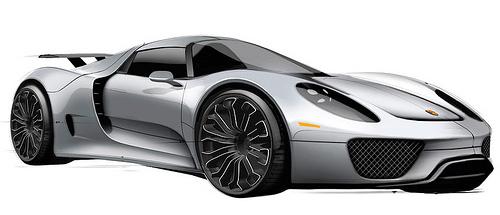 Competes with: Bugatti Veyron, Lexus LFA, Ferrari 458
Looks like: A good use of $845,000
Drivetrain: +500-hp, 4.0-liter V-8 plug-in hybrid, with a seven-speed automatic transmission
Hits dealerships: September 2013
Porsche announced it would build the 918 Spyder plug-in hybrid late last summer, and today, we received more production-specific details, pricing and even a delivery date.
Since we last reported on the vehicle as a concept race car, Porsche has made some practical engineering changes, including giving the vehicle two seats instead of one. The structure is carbon fiber based and will feature a manual detachable hardtop roof, which can be stored in the front luggage compartment.
Porsche also shed more light on the powertrain. Compared with the concept version, which used a 6.2-liter V-8 engine and three electric motors, the production model is equipped with a mid-mounted, high-revving 4.0-liter V-8 engine, capable of at least 500 horsepower. There are two electric motors, one on the front and rear axle, which together produce 218 hp.Porsche claims the electric motors will allow for better variable/independent control of the all-wheel-drive system.
The hybrid component utilizes a liquid-cooled lithium-ion battery, which can be charged with a regular household outlet. When fully charged, the 918 Spyder will have an EV-only range of more than 16 miles. Porsche says the model can travel on electric-only at speeds up to 94 mph for limited distances. The EPA hasn't designated an official mileage score yet.
Just in case you thought this supercar hybrid would wimp out in terms of performance for the sake of its green mantle, think again; the model can accelerate from zero to 60 mph in 3.1 seconds and has a top speed of 199 mph.
The 918 Spyder won't come cheap. It'll have a retail price of $845,000, excluding destination and handling charges. That places the 918 in a pricing category far above any Bentley or Ferrari. Lamborghinis look downright bargain-basement when matched to this Porsche. It will be exclusive though, with only 918 units being produced.
Buyers looking at the car will also have the opportunity to acquire a special-edition 911 Turbo S coupe or cabriolet. The special-edition 911s will borrow carbon fiber styling elements from the Spyder and will be limited to 918 production models, just like the 918 Spyder. The special-edition 911 cost the same as the standard Turbo S ($160,700) and is available for order today. It will ship later in 2011.
The 918 Spyder plug-in hybrid will go into production Sept. 18, 2013 – an curiously specific date for being two and half years out.