Smart ForTwo Electric Available for $599 Lease Now, Purchase in 2012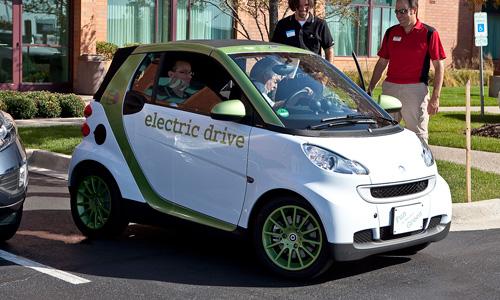 While Nissan, Chevrolet and Tesla get most of the attention in the electric-vehicle arena, there's another, often forgotten, entry available nationally right now: the Smart ForTwo Electric. You probably haven't heard about the model due to its limited availability, its lease-only policy and mostly because of its recent business problems with the brand in the U.S.
Still, if the pint-sized electric car tickles your fancy, you can lease one for $599 a month with $2,500 due at signing for the EV coupe, according to Smart spokesman Rick Bourgoise. The lease is good for four years or 40,000 miles. That's a long time to be tied to a new technology. A cabriolet model is available for $649 a month.
The Smart ForTwo Electric has an estimated range of 63 miles in combined city and highway driving, according the EPA. With a 220-volt plug, it can be fully charged in less than eight hours. The car can reach a maximum speed of 62.5 mph. Admittedly these specifications don't match up to the Nissan Leaf, which can charge faster and travel farther and faster, and is probably part of the reason why the Smart EV isn't ready for primetime. Smart's program is similar to BMW's test markets for the Mini E electric car or more recently BMW's ActiveE.
The first delivery of the Smart ForTwo Electric happened in late January. It's important to point out that the Smart won't be produced in large quantities in 2011; only 250 models will be produced for U.S. consumption, and 1,500 will be produced worldwide.
Judging from the availability map, there are at least 40 Smart dealerships that have electric Smarts right now. Smart has 58 dealerships within its network.
Technically, the Smart EV has an MSRP of $44,837, but for 2011, it's only available under the lease plan we highlighted above.
Buyers who lease the second-generation Smart ForTwo EV will be eligible to upgrade to the third-generation model when it goes on sale in 2012.
There are no sales projections for the next-generation model, but Bourgoise expects sales in larger volumes, with a lower retail price as Daimler (owner of Smart) realizes greater economies of scale. The next-generation Smart EV will be offered for both lease and purchase.