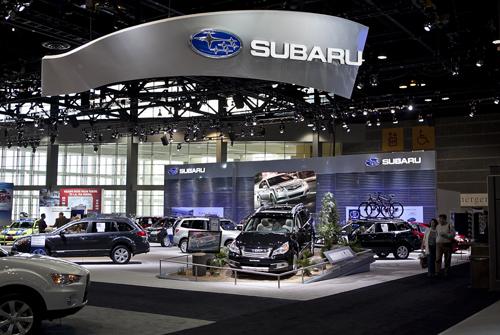 Subaru has been on a roll in the U.S. Sales rose 22% in 2010 compared with the previous year. And through the first two months of 2011, sales are tracking 20% higher, outselling brands like Chrysler and Mazda.
Rising gas prices — the national average for a gallon of regular is $3.52, according to AAA — could shift consumers' attention back to fuel efficiency and the smaller cars that deliver it, but Subaru points to its bigger car lineup for its sales success.
Car shoppers thought the automaker's previous Legacy sedan and Forester crossover were too small, said Michael McHale, Subaru's director of corporate communications. Recent redesigns have made both models larger, adding appreciable interior room. McHale also credits some of the success to a reorganization of its U.S. sales regions. "[The change] means we're a bit more in touch with the market," he said.
Fuel efficiency is becoming more important for all automakers, and Subaru has established some initiatives to improve the mileage of its models. A new 2.0-liter four-cylinder engine is on the way, and it will achieve 30 percent better gas mileage than the 2.5-liter four-cylinder that currently powers many Subarus, McHale said.
In a model like the Forester, which has a combined EPA rating of 23 mpg, that type of increase would result in a 30 mpg combined rating with the new engine and other fuel-saving technologies, such as continuously variable automatic transmissions. Further down the road, Subaru expects to launch its first hybrid in 2013 as a 2014 model.
Even though familiar Subaru models have undergone growth spurts in recent years, one of the automaker's upcoming models will be comparatively tiny. Subaru's version of the small sports car it's developing with Toyota — it's been seen in Toyota guise as the FT-86 concept — is set to arrive in 2012. McHale says the car is similar in size to the Mazda MX-5 Miata and will retain the rear-wheel-drive layout seen in the Toyota as opposed to Subaru's customary all-wheel drive.