Toyota FT-86 II Concept at the 2011 Geneva Motor Show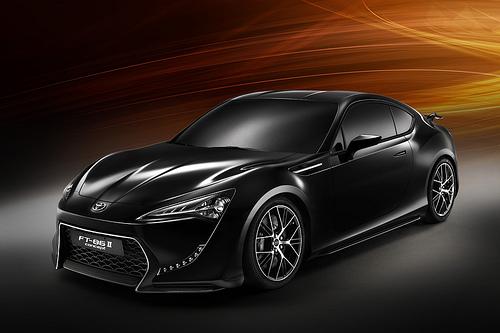 Looks like: Toyota is picking black over beige
Defining characteristics: Lexus LF-A supercar styling
Ridiculous features: BMW M/Aston Martin front fender vent
Chance of being mass-produced: A sure thing
It's been a long wait for a production version of the Toyota FT-86 Sports Car concept that was unveiled in October 2009. And now, finally, we have ... another concept? Toyota took the covers off an FT-86 II concept at the Geneva International Motor Show that it says gives the clearest indication yet of what the FT-86 will look like in its final design.

The FT-86 II shows off more flair than the previous concept with the addition of a gaping front grille accented by what look like LED lights. Out back, there is a more aggressive rear diffuser, and a spoiler makes its way to the deck lid. Usually the more aggressive concept leads the way to a dulled-down production version, but it seems Toyota went the other way with its FT-86.

The FT-86 is a product of Toyota's joint venture with Subaru to build a rear-wheel-drive sports car. The 2.0-liter boxer four-cylinder engine under the FT-86's hood comes from Subaru. The engine and six-speed manual transmission are said to be positioned as low and far back as possible for an optimal low center of gravity to help driving dynamics.

There aren't many details or full specs available yet, but we do know the sports car will go on sale in Europe starting in 2012. It probably will look a lot like this.