Toyota, Nissan Extend Delays on Japanese-Built Vehicles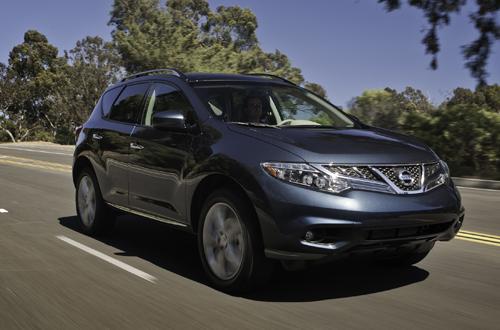 As Japanese automakers continue to ascertain whether they can resume vehicle production in Japan or not, we get word today that Toyota and Nissan will both extend plant shutdowns.
Toyota has decided to extend the closure of its vehicle-producing plants in Japan until Tuesday; we reported on Monday that the automaker originally planned to keep its plants closed through today. Toyota will, however, reopen seven plants Thursday that build replacement parts. On Monday, the automaker will begin to build parts that will be exported to Toyota assembly plants outside Japan.
Nissan will resume production of vehicles, like the Nissan Murano, for a few days starting Thursday to clear supplies at the assembly plant, but it's uncertain if it can keep those plants open due to Japan's damaged transportation and energy networks.
Mitsubishi and tiremaker Bridgestone have reopened plants today, according to Bloomberg BusinessWeek. Mitsubishi builds the Lancer, Outlander and Outlander Sport in Japan.
Below are some important bulletins from each automaker, along with the vehicles they produce in Japan:
Toyota
Extended its Japanese vehicle plant closures until Tuesday.
Separately, the automaker will resume making replacement parts for vehicles already on the market beginning Thursday.
To keep American and other Toyota vehicle plants running, the automaker will resume domestic production of automotive parts – that go into other vehicles – starting Monday.
U.S. Vehicles Potentially Affected: Scion xB, Scion xD, Scion tC, Toyota Yaris, Toyota 4Runner, Toyota Land Cruiser, Lexus LX 570, Toyota Prius, Toyota FJ Cruiser, Lexus ES, Lexus GS, Lexus GX, Lexus LS, Lexus LX, Lexus LFA, Lexus HS, Lexus IS and Lexus CT 200h
Nissan
"Due to an approximately 50 days' supply of vehicle stock on the ground in the region or already in transit from Japanese ports, Nissan Americas does not anticipate any near-term impact on sales or vehicle availability."
Nissan has resumed production at one vehicle assembly plant (we're uncertain that it builds U.S. vehicles). Some plants, like the one that builds the Nissan Murano, will go back online Thursday, but only for a few days while supplies last at the plant. Beginning Saturday, Nissan will assess whether it can operate its plants based on its ability to deliver parts from other areas of the country.
Nissan's Iwaki engine plant, which builds the automakers VQ V-6 engines, is still heavily affected by aftershocks. Two of Nissan's transmission plants are also closed due to partial damage to the buildings and equipment.
"Approximately 1,300 Infiniti vehicles were damaged in port in Japan due to the earthquake/tsunami, which equates to less than a few days' supply for the brand. Historically, Infiniti keeps an approximately 20,000 unit inventory in the U.S., so this unit loss is expected to be made up over the next several months."
U.S. Vehicles Potentially Affected: Nissan GT-R, Nissan 370Z, Nissan Leaf, Nissan Quest, Nissan Cube, Nissan Murano, Nissan Juke, Infiniti G Series, Infiniti M Series and Infiniti FX Series
Mitsubishi
"None of [our plants] have been affected by the Tohoku earthquake, but some of MMC's suppliers have reported damages."
Production has resumed at all three assembly plants.
U.S. Vehicles Potentially Affected: Mitsubishi Lancer, Mitsubishi Outlander and Mitsubishi Outlander Sport