Volkswagen Offers March Lease Deals
Like Honda, Volkswagen doesn't typically offer big cash-back incentives to move cars off dealer lots; it instead relies on special lease rates. For March, the German automaker is offering attractive leasing and financing incentives on most of its lineup with its "Going, Going, Gone Event."
Financing incentives include zero-percent financing for 72 months on vehicles like 2010 New Beetle and 2011 Routan minivan.
Newer vehicles like the redesigned 2011 Touareg (including hybrid and TDI diesel variants) also get attractive financing rates.
If you're looking to get a deal on the fast-selling 2011 Jetta, the automaker is offering a $179 a month lease, though we've seen better rates from competitors like the Chevrolet Cruze and Toyota Corolla.
If you're looking for a used Volkswagen, the company is also offering 1.99% APR financing on its entire certified pre-owned inventory for 48 months or 2.99% financing for 60 months.
The deals below are VW's national deals. There are some regional and dealership incentives that might be more advantageous for people who are looking to finance or pay with cash rather than lease.
Most of the deals highlighted below expire at the end of March.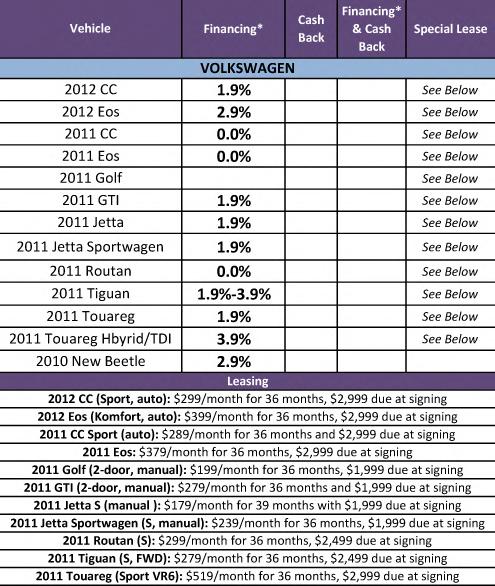 *Financing APRs are for a standard 60 month loan maturity. Information comes directly from automaker's retail website.