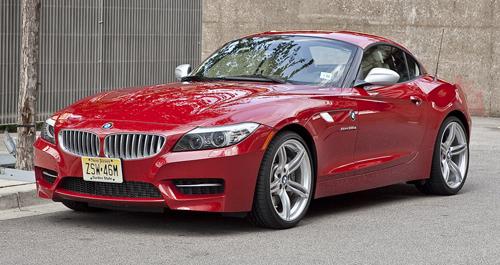 A few months ago, BMW announced that a four-cylinder will re-enter the U.S. market, without mentioning the vehicles that will get the powertrain. Today, the automaker confirmed that its Z4 roadster will be the first convert to the inline-four.
The new Z4 trim is called sDrive28i, and it replaces the 2011 sDrive30i. BMW didn't confirm whether the sDrive35i and sDrive35is will still be available with their turbocharged 3.0-liter six-cylinder or if they will be discontinued. But we'd assume they will remain the top trim levels.
As we reported earlier, the new inline-four-cylinder will combine twin-scroll turbocharging, direct injection and BMW's proprietary variable valve timing system known as Valvetronic. The 2.0-liter motor will make 240 horsepower and 260 pounds-feet of torque in U.S. variants. That's more power than BMW's normally aspirated 3.0-liter inline-six-cylinder, which is found on the current 3 Series, and the 2.0-liter turbo from Audi, which puts out 211 hp and 258 pounds-feet of torque.
The four-cylinder will be mated to an optional eight-speed automatic transmission; the 2011 sDrive30i was only available with a six-speed auto, and the sDrive35i with a seven-speed auto-shift manual.
The Z4 sDrive28i is expected to be 20% more fuel efficient than the model it replaces when equipped with the new transmission. The current sDrive30i returns 18/28 mpg city/highway with either the manual or automatic.
The new Z4 will be the first BMW offered with a four-cylinder since 1997. The model goes on sale later this year. Pricing hasn't been announced, but we'd bet BMW will lower the price of entry to the slow-selling but well-reviewed Z4 from its current $47,450.