2012 Hyundai Accent: Up Close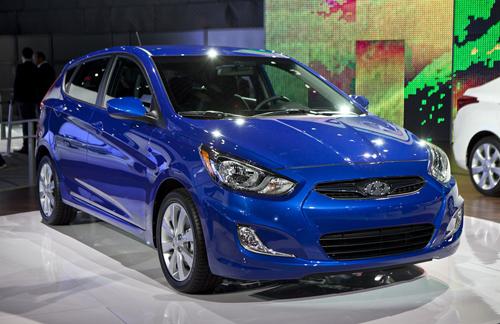 It comes with some embarrassment that I mistook the white Elantra on stage at Hyundai's press conference for the Accent. (And here's the admittance, in virtual ink, to live on forever.) I had to examine the facial differences to tell the two apart: The Accent's headlights are more clipped, while the fog lights curl back. It's vice versa on the Elantra.
More 2011 New York Auto Show Coverage
The fact is, Hyundai's fluidic design is taking hold, and the automaker's cars look more similar than arguably at any point in its U.S. history. That's not necessarily a bad thing; BMW and Audi have cultivated similar faces across their lineups for years.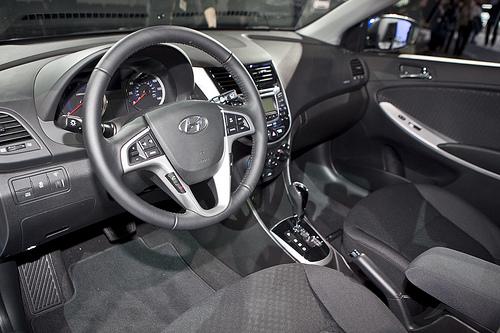 Cabin materials in the Accent feel segment-competitive. The dimpled plastics at eye level are a welcome distraction from their modest quality, and the controls look sharp. Hyundai's two Accents on display – a sedan and hatchback, both well-optioned – had chrome door handles and piano-black trim, which are uncommon niceties for the class. Anyone with big hands may find the steering-wheel buttons too small, and it won't take long for your elbows to wish the door armrests had more (any, really) padding.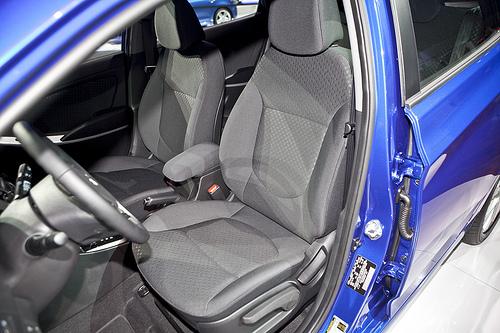 The Accent offers no telescoping steering wheel, something the Honda Fit and Ford Fiesta do. But I found the wheel close enough to me, and I usually deem non-telescoping wheels too far away. (Short drivers, on the other hand, may wish it sat farther forward.) For a small car, the driver's seat extends impressively far rearward. Even with the height jacked up, I sat comfortably with an inch of rearward travel to spare. Storage areas abound: The center console could stash a couple of bulky sunglass cases, and Hyundai claims the glove box beats that of the Fit, Chevy Aveo and Toyota Yaris. It's roomy, at any rate.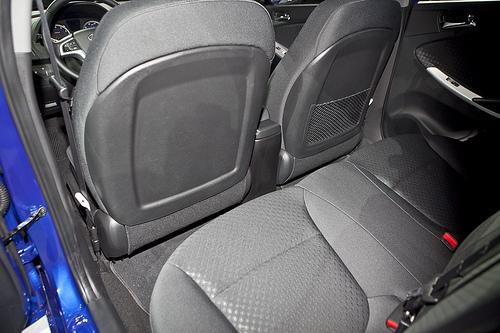 Legroom in back is modest, and typical of this class, the rear seat sits too low to the floor. Headroom in the hatchback is good, however. In the sedan it's tight. The rear window in both the hatchback and sedan is small, which hurts the view straight back, but neither car has massive C-pillars.