2012 Mazda3 to Get 40 MPG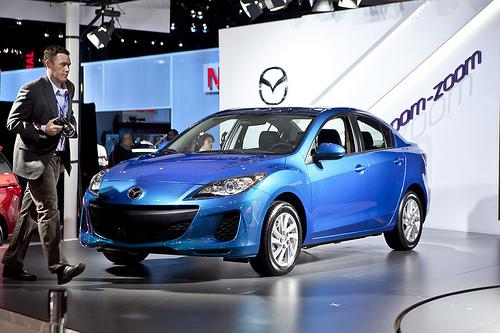 The 2012 Mazda3, which debuted at a Canadian auto show earlier this year, makes its first U.S. appearance in New York City, along with some facts that weren't revealed when it was north of the border. Namely, that the mildly refreshed sedan's new engine, which is teamed to a new six-speed automatic, will achieve 28/40 mpg city/highway, nearly matching the 2011 Hyundai Elantra for best-in-class mileage.
Originally, the company said fuel efficiency would be up 15%, but this is actually a 21% boost of the outgoing 2011 model.
Mazda needs to get better mileage because it's far behind its compact-class competition in that category. The current Mazda3 gets an EPA-estimated 24/33/27 mpg city/highway/combined. Honda's just announced the 2012 Civic will get 39 mpg highway, and the new Hyundai Elantra gets 40 mpg highway. The Mazda3 with a six-speed manual transmission gets slightly worse mileage at 27/39 mpg.
Mazda always touted its driving dynamics as an advantage to make up for its lower fuel efficiency versus the class. Now the company can claim class-leading mileage numbers, too.
Mazda also has toned down the Mazda3's smiley-face look with a more angular grille. We can't really see much difference to the car's rear, and we can't stand the new wheels (shown in these photos), which look like they belong on a Pontiac Vibe.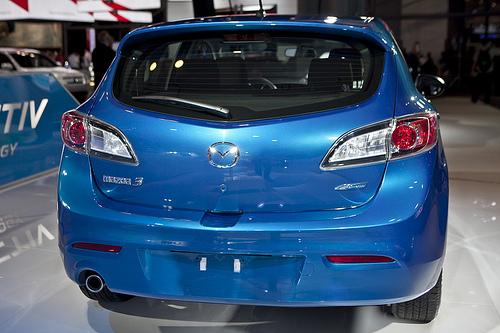 The hatchback will not get the same mileage, thanks to its larger profile, but it will still get an estimated 27/38 mpg with a manual transmission and 28/38 mpg with an automatic.
The larger 2.5-liter four-cylinder engine still will be offered with 167 horsepower, but mileage remains the same as the current model at 20/28 mpg for the manual transmission and 22/29 mpg for the carryover five-speed automatic transmission.