2013 Chevrolet Malibu Eco Rated at 26/38 MPG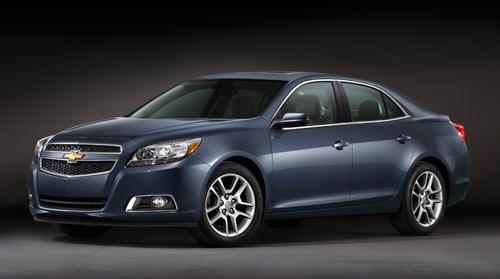 Chevrolet just took the wraps off the redesigned 2013 Malibu on Monday. Today, it's revealing a new high-mileage Eco trim. The move adds confusion to the earlier release, the mild-hybrid Eco — the company is not calling it a hybrid despite the lithium-ion battery and electric motor teamed to the engine — will be the first Malibu trim to go on sale in early 2012. The base four-cylinder car will follow in summer 2012 with the familiar LS, LT and LTZ trim levels, which don't yet have fuel economy estimates. Pricing has yet to be announced for any of these models.
The 2013 Chevrolet Malibu is estimated at 26/38 mpg city/highway.
More 2011 New York Auto Show Coverage
Unlike the Chevrolet Cruze Eco, which is a high-efficiency gas-only version of the compact sedan that gets an EPA-estimated 28/42 mpg with a manual transmission, the Malibu Eco uses GM's latest mild-hybrid technology, dubbed eAssist. The power pack for eAssist is behind the backseat, which reduces trunk room from 16.3 cubic feet to 14.3.
Unlike the Toyota Camry Hybrid and Ford Fusion Hybrid, which can move on battery power alone, the capability of the eAssist technology in the Malibu Eco is more limited. It can capture kinetic energy when braking that'd otherwise be lost and provide supplemental power when accelerating. The 2.4-liter four-cylinder gas engine shuts off automatically when the car comes to a stop, starting again immediately when the brake pedal is released.
As such, the Malibu Eco's 26-mpg city fuel economy trails full hybrids like the Camry Hybrid and Fusion Hybrid, which are rated at 31 and 41 mpg, respectively. However, the Malibu Eco is more efficient on the highway, with its 38-mpg estimate topping the Camry Hybrid's 35 mpg and the Fusion Hybrid's 36 mpg.
The Malibu Eco employs a number of fuel-saving tricks to maximize mileage. The sedan is equipped with electric shutters in the lower front grille that automatically close when conditions are right to better manage airflow, and it also features four underbody covers for less airflow disruption. Standard 17-inch aluminum wheels are fitted with low-rolling-resistance tires.
Without knowing the fuel-economy estimates for the gas-only 2013 Malibu, it's impossible to know what kind of an efficiency increase eAssist provides the Malibu Eco. Chevrolet touts eAssist as a value-oriented hybrid solution, so look for it to undercut the price of full hybrid competitors.