Audi Shares Great Roads via Foursquare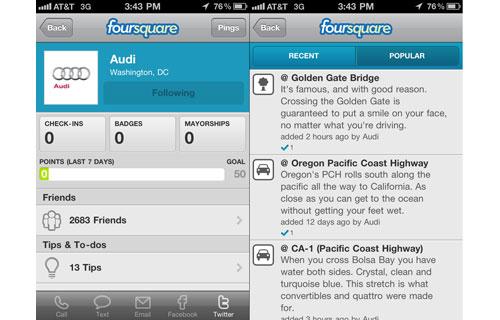 Have you checked into Foursquare at your local coffee or burrito shop lately to get a good deal? Well,
Audi wants you to follow them
so you can check in and find the best driving roads in the country.
For most locations, Foursquare has a Tips section where users usually let you know if a bar has good Buffalo wings or if a grocery store accepts double coupons. Audi is leaving comments about great places to drive and even where to park. This is the first time we've seen this type of use from an automaker or even casual users. However, the automaker only has 13 tips so far.
Here are a few of Audi's most popular tips:
Tail Of The Dragon
This 11-mile route boasts no less than 318 curves through thick, mountainous NC forest. quattro, anyone?
The National Mall
Go directly to 4th St NW for your best chance to find on-the-Mall parking.
Highway 1 - Carmel / Big Sur
Go south from Monterey all the way down to Hearst Castle. Two lane. Cliffside. Sea and surf. White knuckles. Scenery so good for once it might be better to be the passenger.
I want to go to there.