Honda Spotlights No Money Down Leases in April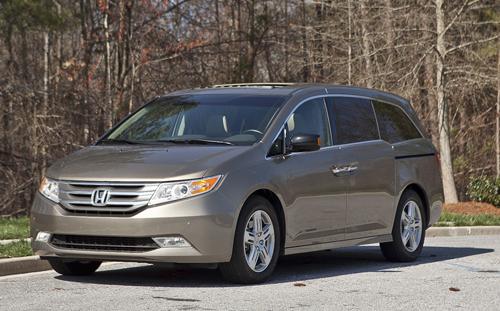 Despite potentially tight supplies of some Honda vehicles, the automaker continues a robust lease and low-financing incentives campaign throughout April. Honda calls it "The Really Big Thing Sales Event," and by now, you've likely seen the commercials for it, which feature
oversized lapel pins
. Like other recent Honda sales events, the carmaker is pushing leases with $0 down payment, $0 security deposit, $0 first month's payment and $0 due at signing on most of its lineup.
The no-money-down lease deals include $380 a month on the 2011 Odyssey minivan and $250 a month for a 2011 Accord. Keep in mind that $0 down doesn't include tax, license, title, registration and documentation fees, which will likely cost thousands of dollars before you leave the lot. If you want to reduce your monthly payments, Honda's also offering lease deals with money down — typically $1,999 — knocking off about $60 a month on the lease deals we highlight below.
For folks not into leasing, Honda's financing deals are also impressive. There's 0.9% financing for 60 months on most of its lineup, excluding the Odyssey and CR-Z. Ridgeline financing is set at 1.9% for 60 months. Honda isn't typically big on retail cash-back offerings, and April will be no different. There are some dealer incentives that buyers could use for negotiating purposes. It's important to note that dealer incentives are for dealers only, but often you can squeeze the manufacturer's subsidy out of the retailer. For more info, check out our Advice page on incentives.
Our chart of Honda's April deals is below. Most offers expire on May 2.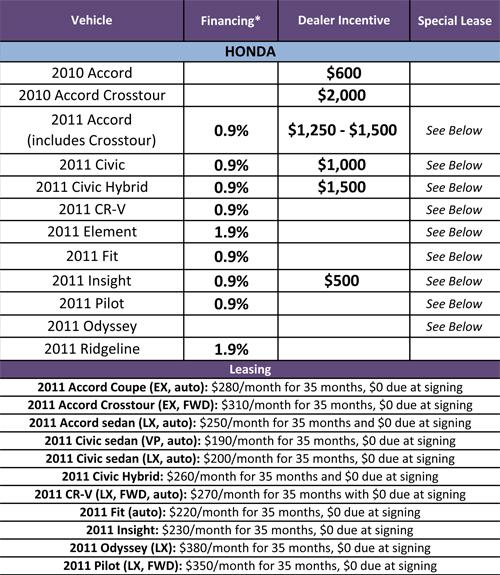 *Financing APRs are for a standard 60 month loan maturity. Information comes directly from automaker's retail website.