Reader Review of the Week: 2011 Dodge Journey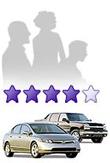 "BicycleRider" from Atlanta was a loyal Isuzu buyer until the brand was scuttled. After a long, extensive search, this reader settled on a new 2011 Dodge Journey. The crossover has an excellent ride and a luxurious interior, BicycleRider says. To find out why the Journey beat out other competitors, continue reading BicycleRider's review below. Once you're done, you can submit your own car review here.
"After having four Rodeos (no longer made), driving my last one well beyond 100,000 miles, I went searching for a new SUV/crossover. I drove many new 2011 vehicles, but none were impressing me until I drove the 2011 Dodge Journey. Wow! What a fantastic ride! I was done looking. Priced way below its rival competition, too!
"I purchased a silver Crew model with the Uconnect package, the normal cloth (black) interior, beautiful 19-inch alloy wheels, the 3.6-liter 283-hp Pentastar engine, and I feel like I'm cruising in a luxury liner. Beautiful dash layout and color scheme, by the way. Just got back from a 1,000-mile round trip to the beach, carrying three bicycles racked on the back, and it drove like a dream.
"The only reason I gave it a 4 on performance is because of a slight lag in pickup you can encounter if you are light-footed, due to electronic relaying of gas pedal info. Anticipate pickup needs and be more heavy-footed with the Journey and you'll be fine, though, and get all the extra power you'll need when/if you need it. I'm totally happy with this solid vehicle."