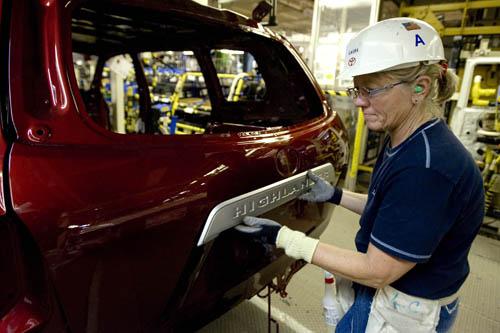 Toyota has officially warned its 1,500 Toyota brand, Lexus and Scion dealers to expect supply shortages over the summer.
"The potential exists that supply of new vehicles could be significantly impacted this summer," Toyota's U.S. general manager Bob Carter told dealerships in a written memo. Dealerships may face shortages due to production delays and stoppages at Toyota's North American plants because of the tsunami and earthquake in Japan.
Over the next few weeks, Toyota's North American plants will operate at reduced levels, and production will be halted completely for five days at most plants this month, Toyota said in a separate press release. Some exterior colors will be changed, too, because of shortages of the chemicals used in making those paints, according to the USA Today.
Toyota currently has some 329,500 vehicles available in the U.S., according to Automotive News. That's the equivalent of 50 days' worth of supply; 54 days is the industry average for April thus far. Admittedly, Toyota's inventory is in better shape than Subaru, Nissan and Hyundai-Kia, all of which have even tighter supplies, but Carter warns that supply will be "getting tighter" over the next few months.
Toyota operates 13 assembly plants in North America, producing vehicles that include the Toyota Avalon, Camry, Corolla, Highlander, Matrix, RAV4, Sienna, Sequoia, Tacoma, Tundra, Venza and the Lexus RX 350. A 14th plant in Mississippi is scheduled to start building Corollas this fall. Overall, about 70% of all Toyota models sold in the U.S. are made in North America.
Toyota Warns Dealers of New-Car Shortage This Summer (USA Today)