Top 10 Best-Selling Cars: March 2011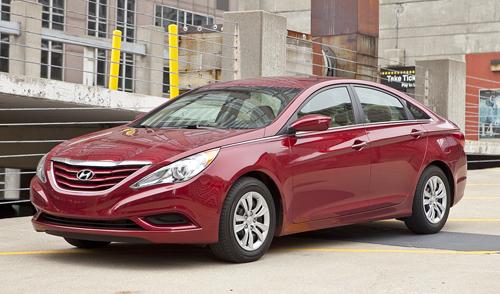 Despite mounting pressures on the auto industry from rising gas prices and growing concerns involving the production delays and the earthquake in Japan, car shoppers still bought new vehicles in droves in March.
While all automakers generally did well, Hyundai (up 32%), Ford (up 28.2%) and Nissan (up 26.9%) performed above average. Ford (selling only Ford and Lincoln models) with 212,777 cars sold, outsold all four brands at GM (206,621 cars sold, up 11.4%) to become the best-selling automaker in the United States in March. GM is still the best-seller year-to-date.
Ford has three vehicles in the top 10 for March, the most of any automaker. That's an accolade typically reserved for Honda. Toyota was the only major automaker with losses compared with March 2010 (down 9.2%). The Toyota Camry and the Toyota Corolla were the only vehicles showing falling sales in the top 10.
Seven vehicles on the list sold more than 30,000 units in March, compared with only three that did that in the first two months of 2011.
The list also shows significant gains in the midsize sedan category. Typically, the top two spots are pickup trucks, but the Honda Accord managed to wrestle the second spot from the Chevrolet Silverado, a perennial favorite. The Camry, typically the best-selling midsize sedan, fell behind both the Accord and the Nissan Altima in March. The Hyundai Sonata rejoins the top 10 after a four-month abscence, with sales up 63.4% for the year.
Check out the full list below: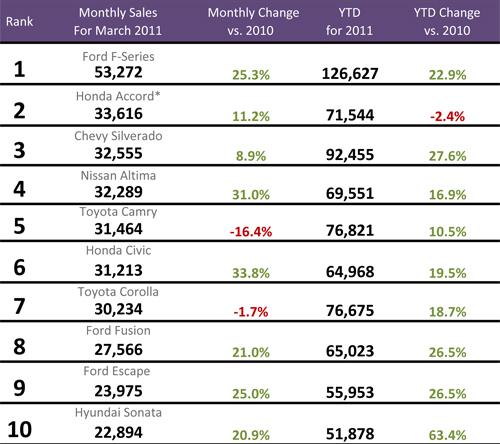 *Honda Accord includes 2,083 Crosstours