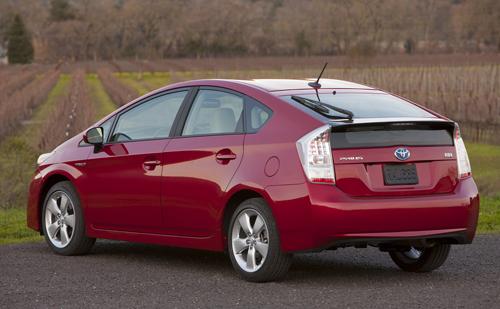 As gas prices continue to rise this year, the Toyota Prius is again in heavy demand. Toyota sold 18,605 of the hybrids in March, up 52% from last March. Gas prices rose 84 cents in that time to $3.66 a gallon nationwide.
If you're looking for the only 50 mpg car on the market, you'll have to pay $1,500 more today than you would have when the latest Prius debuted in 2009. The price hike isn't due to unscrupulous car dealers preying on buyers; it's the result of a steady midyear price increase that Toyota issues to most of its models.
When the news of Toyota's midyear price increases hit last week, we noticed that the price of the Prius didn't quite match up with what we had on Cars.com. After May's price increases, the Prius starts at $22,120, a $470 boost, for the entry-level Prius One (formerly Prius I). However, Toyota's website and Cars.com both show a current price of $23,050 – which will increase to $23,520 starting in May. That's because Toyota is no longer advertising the Prius One on its retail site.
Although the Prius One is no longer advertised on Cars.com's or Toyota's websites, we have confirmed that the model is still available. "The Prius One can [still] be purchased at retail," Toyota spokesman Sam Butto said. "However, it is a very low-volume vehicle, so chances are if you want to purchase one, you will need to order it through your local dealer because they probably will not have them in their inventory."
The Prius One was a late trim offering when the third-generation Prius was launched in late 2009. It was never meant to be a big seller, but it was still advertised as the Prius' base price. Also worth a quick note: Toyota has stopped using Roman numerals. "Prius Two" was a "Prius II" last year; we also thought the latter was confusing.
Most times, Cars.com editors routinely refer to the more common Prius Two in terms of starting prices for the model because most shoppers will not find the Prius One on lots. The Prius One comes equipped with the basics and a few thrills: automatic climate control with air filtration; power windows, locks and mirrors; and push-button start. The Prius One has primarily been sold to fleet customers, Butto said.
The Prius Two has six speakers (compared with the One's four), passenger-side seatback pocket, satellite radio, rear hatchback wiper, tonneau cover, passive smart key entry, cruise control and the coveted EV button. The EV button is good for driving one or two miles on all-electric power at low speeds, with the battery fully charged. The Prius Two costs $1,400 more than the Prius One.
If you just focus on the Prius Two's price increase from $22,000 to $23,520 in two years' time with little added to its standard equipment, you'd be surprised at the jump. Typically, Toyota and other import brands adjust prices 1% to 2%, and we've seen adjustments as little as $90. A $500 increase for the Prius Two this year is significant, and it alters the value equation, albeit slightly, of the Prius. Is the 2011 Volkswagen Jetta TDI and its $22,095 starting price and 42 mpg highway rating more attractive when the 2011 Prius starts $1,425 higher?
The Prius is in short supply because of the earthquake and tsunami in Japan last month. Production was halted between March 14 and March 28. Toyota resumed Prius production last week, and spokesman Steven Curtis says new shipments are en route to the U.S.
Even so, the two-week halt has caused some temporary inventory issues. Prius inventory has dropped in half, but with 12,250 still available at U.S. dealerships, the automaker says its 18 days' worth of supply is still adequate, according to USA Today.