2012 Volkswagen Beetle: Up Close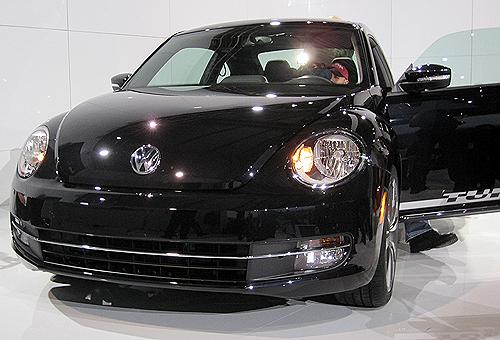 The new 2012 Volkswagen Beetle (be careful not to call it the New Beetle) marks only the third generation for a car that's more than 50 years old.
It's less a car that reflects the happy look of the previous two generations and more of one that looks determined and ready to pounce. That's by design, said Klaus Bischoff, VW brand design chief, who we spoke to Monday morning in New York City.
"It was clear we had to stick to the round headlights," Bischoff said when talking about the Beetle's historic "face." "We succeeded in keeping the original DNA."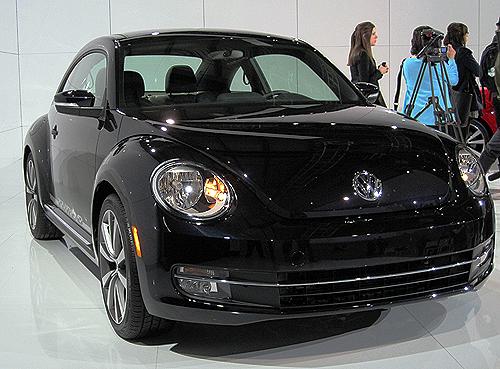 But in keeping the original DNA, it's clear they added some muscle.
"We put away toyish or cute elements for something more adult, more masculine," he said. "A boy's toy."
The Beetle's exterior seems shorter than the previous generation, and the greenhouse has been pushed back, making for a longer hood and bringing the windshield closer to the driver. "We intended to get back a little to the Type 1 (original Beetle)," he said. "With shifting of the greenhouse, we made it better."


It's a totally new feel in the driver's seat. Where the previous generation felt very airy, this one seems more focused on driving. Gone is the ridiculously long dashboard; instead, you get the feeling of a sporty compact coupe.
"We wanted to get away from the MPV-ish interior, where you feel like you're sitting in the back row," Bischoff said. "You don't feel like you've got a table in front of you."
Sitting in the turbo version, the seats were supportive, but the backseat remains for children or adults you're not very happy with.
The interior controls seem to match the best that were put into the new Jetta, and the ergonomics conform to current VW styling. Visibility didn't seem to suffer much, but it'll be easier to tell once it hits the road. That's not expected until early this fall.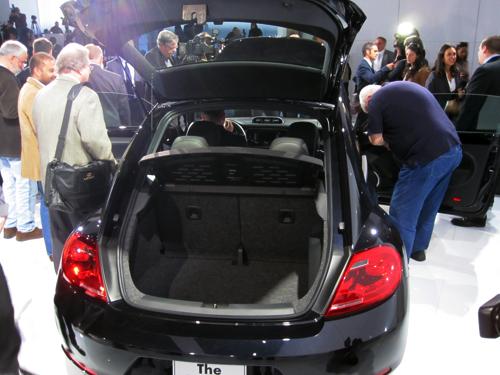 Bischoff said the VW design team wasn't too worried about making such dramatic changes to the car because of early feedback. "All of the customers who have seen it have reacted positively to the changes."
When asked whether it was by design that the revamped Beetle has more than a passing resemblance to the Porsche 911, Bischoff simply smiled and said, "Touché."
"Both have the same father," he said, "both have the same DNA."
Sharp-eyed consumers will note that no flower vase comes standard with this version of the Beetle. That decision came along with the company's new approach to the car.
"If you want to change the character," Bischoff said, "you have to do it strong."