Cars.com Chevy Volt: Real World Damage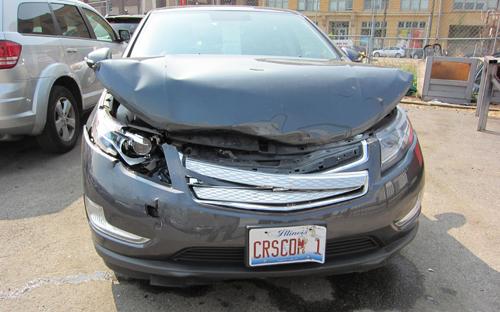 Cars.com's Chevrolet Volt has had a rough few months. First, it was
Chilly the rat
, and now, our Volt was involved in an accident that crumpled the hood and deployed both driver airbags — the knee airbag and the one in the steering wheel.
The Cars.com driver was a little banged up in the incident. Though every car owner hopes it never happens, we knew an accident would be a possibility, as it is every time anyone gets behind the wheel. The upside is we get to answer the kinds of questions that a potential Volt buyer might have — specifically, how much does it cost to repair body damage on a plug-in car?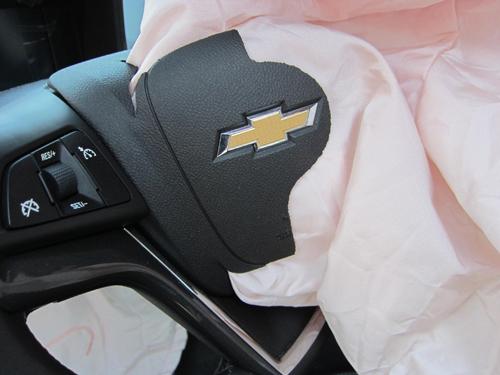 The preliminary estimate was for more than $10,500. In addition to the hood, bumper, grille and at least one headlight, the radiator and various heat exchangers will be replaced. The airbags and seat belt pretensioner account for more than $1,100 in parts alone. Adding insult to injury, a police cruiser pushed the disabled Volt off the road (the battery pack automatically decouples in a collision), so we're paying for some rear-bumper repairs, too.
We'll let you know how long it takes to get the Volt back into driving shape. In the meantime, keep an eye on www.cars.com/green and our Twitter feed, @CarsComGreen, for reports on the Volt and our ongoing experience with the Nissan Leaf.