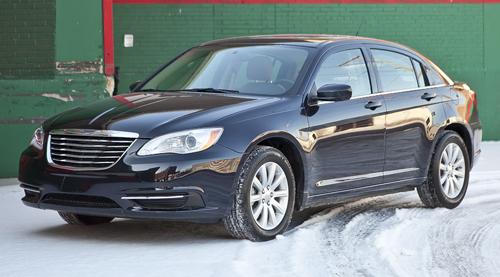 Even though Chrysler's redesigned midsize sedans are selling well without large incentives, the automaker has boosted cash-back offerings for both models in May. The 2011 Chrysler 200 now has $1,250 cash on the hood, while the refreshed 2011 Dodge Avenger gets $1,750 cash back. The Avenger also has a 60-month zero-percent financing option, though it can't be combined with the cash back.
In April, the company sold 15,851 units of 200 and Avenger sedans combined. That's 36.5% more than in April 2010. The 200 has been backed by a vigorous "Imported from Detroit" ad campaign.
The 2011 Chrysler 200 maintains its special lease rates from April: a $199-a-month rate for the Touring trim for 39 months and $1,999 cash down. The 200 convertible has a $299-a-month lease for the same amount of time and $2,999 cash down.
There also are special lease rates on the Chrysler Town & Country and 300 as well as special lease rates on many Dodge vehicles for the month.
Chrysler is continuing its Minivan Month, which is a 60-day money-back guarantee program. Along with the guarantee, some Dodge Grand Caravan models can get up to $2,000 cash back or zero-percent financing for 60 months.