Chrysler Details Future Upgrades to 2012 Jeep, Dodge, Fiat Vehicles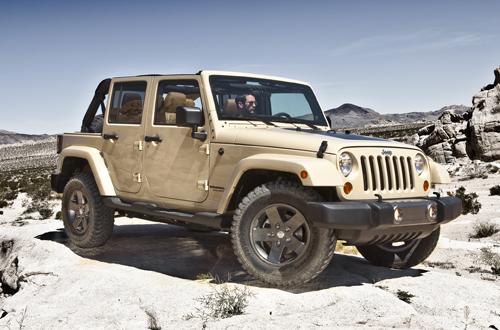 Along with announcing this week its first profit since emerging from bankruptcy, Chrysler also confirmed some new equipment and special-edition trims that should go on sale within the next 12 months.
In a presentation, Chrysler outlined three special editions: the Fiat 500 Gucci edition, Dodge Charger Super Bee and Jeep Wrangler Mojave.
Fiat already sells the 500 Gucci edition in other regions. The retro-looking trim features unique exterior coloring and striping, and unique wheels. Inside, there are glossy satin chromes and two-toned seats upholstered in high-end leather.
The previous-generation Charger had a Super Bee edition that featured bright yellow paint with exterior black striping on the hood and deck lid, and Super Bee logos on the front and rear fenders. Underneath the Super Bee was essentially an SRT8 by another name. There were no details on the upcoming Super Bee.
We already saw the Jeep Wrangler Mojave (shown above) at the 2011 New York International Auto Show. The model is a four-door Wrangler Unlimited with a desert-theme exterior and interior modifications. The Mojave goes on sale next month.
Chrysler also confirmed some powertrain updates. The 2012 Jeep Wrangler will get a new 3.6-liter V-6 and a five-speed automatic transmission, mated to an all-wheel drivetrain. The update promises to improve gas mileage by 10%. The current Wrangler gets 15/19 mpg city/highway with an automatic transmission.
The 2012 Dodge Charger and Chrysler 300 will be the first models to come equipped with a new eight-speed automatic transmission in either rear-wheel drive or all-wheel drive. The update should improve gas mileage by 10% to 12%, though Chrysler didn't specify if that's compared with the 2011 V-8 or V-6 models.
As we confirmed earlier, the 2012 Dodge Avenger and Chrysler 200 will get six-speed dual-clutch transmissions for either the four-cylinder or six-cylinder models.
A 40-mpg small car will come to the Dodge brand for the 2012-2013 model year, too, as previously stated. The sedan will get up to 40 mpg on the highway and will be based off the Alfa Romeo Giulietta hatchback, but it will have its own exterior "top hat" and interior. The car should come out sometime in the fourth quarter of this year, Chrysler CEO Sergio Marchionne said.