Reader Review of the Week: 2012 Honda Civic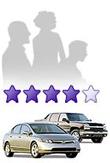 MB" from Kansas City has just moved out of 2011 Honda Civic into the redesigned 2012 model that went on sale last month. So, how does he like the changes? Small ergonomic tweaks make the car a more comfortable commuter for MB, while also returning better gas mileage. Continue reading to see how he feels about the Civic's packaging and pricing. Once you're done reading the review, you can submit your own car review
here
.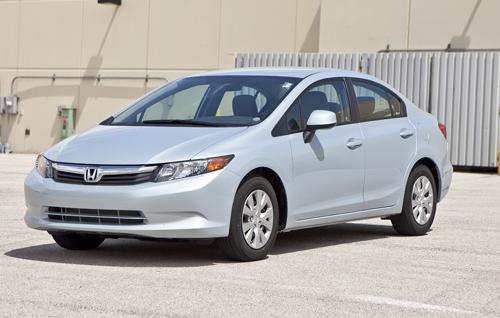 "I am 6 feet tall and 360 pounds. I am a traveling nurse and drive many miles a week. Comfort is important as well as good fuel efficiency. Two difficult qualities to reconcile. Honda has done it. I also own a 2011 Civic, and it is difficult for me to get in and out of. I usually rub either my right shoulder or my posterior end on the rubber door trim, causing it to wear out and rip over time. The new 2012 does not have this problem. They have made the opening better in the right places.
There feels like there's much more room in the driver position. More room between me and the dash. I can enter and exit the vehicle, which I do all day long many times, without problems. It is quieter, and I'm able to use built-in Bluetooth without problem. Is the older model more fun to drive? Perhaps. It has the sportier feeling and cool racing steering wheel. But this 2012 is much more comfortable.
I have the EX-L. I drive all day without back pain. There is no lumbar support, but it's not needed with these seats. They hold you in in all the right places. The awful parking brake has been replaced so as not to rub on the right side of the leg. The door panels are skinnier, giving more room for the left leg. Overall, it feels classier. Like being in an Accord.
I was greatly disappointed the first week as it felt sluggish and the cruise would lose 5 mph when going up hills. I deselected the green Econ button and it then was just as peppy as the older version. And I am getting the as-advertised mpg of 32-33 around town combined highway and city. I got 37 mpg when I drove 75% highway. The style may be a bit uglier and not as "fun," but for all the increased benefits of more room and efficiency, I don't care. Honda has achieved perfection in my book.
One thing they need to change: start including XM Satellite Radio, Bluetooth, more power outlets, etc. in base model like Hyundai does. I hate having to pay for a sunroof, etc., to get these features. Bluetooth should be standard on all cars for the safety of hands-free driving. Come on, Honda; you may be left behind if you don't start adding these. Hyundai is not going away.