Used Prices Rise for Small Cars, Fall for SUVs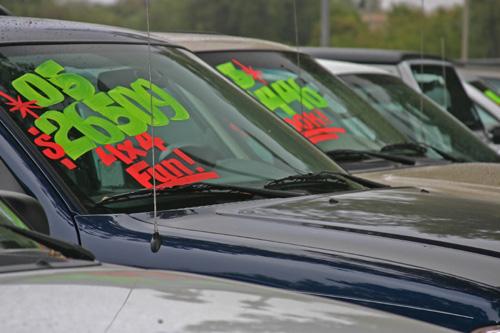 Are you driving around in an older, gas-guzzling SUV and looking for a way out? Maybe you're thinking about trading it for a used, fuel-efficient small car? We have some bad news: Getting a cheap, used, efficient car is getting harder by the day. High demand plus tight supply is actually pushing used-car prices up in 2011.
Yes, people are paying more in 2011 for the same car than they did in 2010 — and it's a year older. A used car appreciating year over year is almost unheard of, and it is going to make shopping for a used car a challenge.
Five-year-old entry-level compact vehicles are now worth 72.1% more than they were last year, according to the National Automobile Dealers Association. At the same time, used-SUV prices have remained relatively flat or have fallen. Prices are expected to increase further through July, when normal seasonal demand for used and new cars peaks, NADA says.
For current owners of older, fuel-efficient small cars who are looking to trade them in or sell them, the price boost is a good thing. For instance, the 2001 Toyota Corolla has seen its transaction price jump 43.8% since last year, and the 2005 Hyundai Elantra's price has gone up by 41.2%, according to Cars.com data. On average, a car should lose about 15% of its current value each year, according to BankRate.com, so any increase in a used car's price is phenomenal. And as new-car incentives become rare, negotiating the trade-in value will be even more vital for new-car shoppers.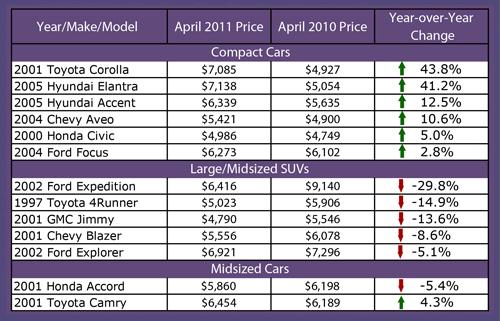 We examined some popular small-car choices — such as the Honda Civic, Hyundai Accent and Ford Focus — and all the models have seen steady increases in their price over last year.
And while Cars.com data shows the used car market overall is seeing prices rise, the largest, least fuel-efficient trucks and SUVs are seeing declines in transaction prices. The 2002 Ford Expedition has seen its price drop by 29.8% over the course of a year. That's because people are trying to offload those types of vehicles, says Jason Gattari, owner of Rome Pre-Owned Auto Sales in upstate New York.
"You see a large increase in trade-ins for large SUVs — like the Ford Expedition or things with eight-cylinder engines — for Civics and Elantras, cars like that," Gattari said. At the same time, small cars are becoming more expensive to get at dealer auction, which is one of the most common ways dealerships get used-car inventory. "We've witnessed about a $1,000 increase on some compact vehicles at auction," Gattari said. Keep in mind that light trucks outsold cars for nearly eight years (from 2000 to 2008), so the available supply to dealers is also weighted to push prices of fuel-efficient cars higher for consumers.
Older midsize SUVs and cars have seen their values steadily decrease over the year, but most are depreciating at less than the 15% average. For instance, the 2002 Ford Explorer has lost only 5.1% of its value from 2010. (See chart for more.) That's because the used-car market is much more competitive than it was a few years back. NADA says from April 2010 to April 2011, used-SUV inventories have shrunk by 31%, which is offsetting the drastic drop in demand for those vehicles; Cash for Clunkers helped reduce those inventories. Still, car shoppers are leaving the SUV segment in droves, NADA says.
The earthquake and tsunami in Japan are also contributors to the price jump. The limited supply of popular new-car models has forced some potential new-car shoppers to enter the used-car market for lightly used models, NADA says. That sort of trend affects the whole used-car market. But the biggest factor is the hike in gas prices.
Don't expect to wait out the sudden change in market conditions. While gas prices have stabilized somewhat, NADA still expects used compact-car prices to jump another 3% to 5% through June and midsize cars and crossovers by about 3% in May.