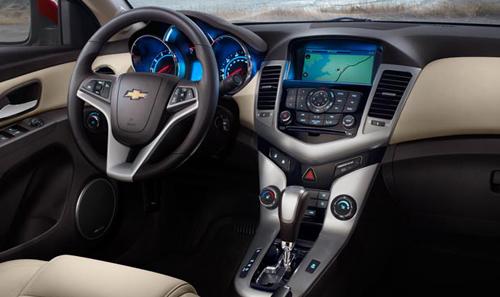 As we reported earlier, the 2012 Chevrolet Cruze gets a new navigation system for the model year. We confirmed today that the system will cost $995, about 50% less than the $1,995 optional navigation system offered on the 2011 Cruze.
The system sports a new 7-inch touch-screen with better resolution, but you can still use the rotary controls, Chevrolet spokeswoman Lesley Hettinger said. The system in the 2011 Cruze wasn't touch-based, and it could be controlled only with the center console controls.
The new system ditches the 10-gigabyte hard drive; an SD card slot replaces it. The absence of the hard drive means the 2012 Cruze loses its ability to pause and play radio stations and record music off CDs, MP3 players and smartphones.
The new navigation system will be available on 2LT, LTZ and Eco trims. Last year, only the 2LT and LTZ had available navigation systems.
Even though this is the same navigation system that will be offered in the 2012 Chevrolet Equinox, the 2012 Cruze won't get Chevy's new multimedia interface, called MyLink, Hettinger said. MyLink will launch in the 2012 Equinox when it goes on sale.
Despite the nav system's lower price, other feature prices have increased on the 2012 Cruze compared with the 2011. For instance, a six-speed automatic transmission is now a $995 option, up from $925. The 1LT and 2LT trims no longer come with a standard automatic transmission even though a base 2012 Cruze LT costs the same as the 2011 model ($18,425). The 1LT trim now gets standard cruise control, Bluetooth connectivity, USB port and steering-wheel-mounted controls, though. The eight-way manually adjustable seats for the driver and front passenger have been replaced with six-way adjustments; the manual seat-bottom tilt has been eliminated.
Other upgrades for the 2012 Cruze include a passive entry system and push-button start, which is standard on the LTZ trim and optional on the 2LT; an automatic transmission is required for the system.
The 2012 Cruze gains 2 mpg on the highway when equipped with the 138-horsepower, turbocharged 1.4-liter four-cylinder and a six-speed automatic transmission. The Cruze is now EPA-rated at 24/38 mpg city/highway. The Cruze Eco with an automatic transmission now gets 26/39 mpg, up from 26/37 mpg.
The 2012 Cruze is in production and should be widely available at dealerships by July, Hettinger says.
GM Drops Price Of 2012 Chevy Cruze Navigation/Audio System Option By 50% (GMInsideNews)