2012 Chevrolet Sonic Priced at $13,735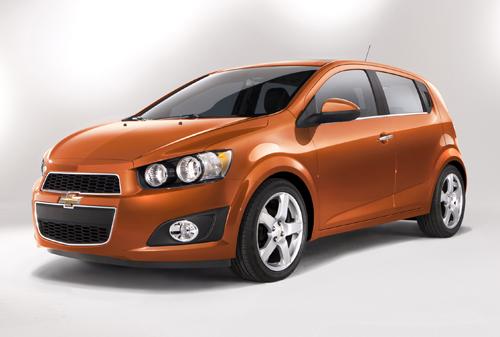 Chevrolet priced its all-new subcompact Sonic today at $13,735, excluding a $760 destination fee. That's nearly $2,000 more than the starting price of the Chevrolet Aveo – the model the Sonic replaces — but comparisons between it and this model will be unfair.
The Aveo wasn't widely available with antilock brakes, and it didn't have side curtain airbags; both are standard on the Sonic. Furthermore, the Sonic has standard electronic stability control and 10 airbags, including dual front knee airbags and front and rear side thorax airbags. That's the most in the subcompact class.
Pricing is surprisingly straightforward on the Sonic. There are only three well-equipped trims at launch — LS, LT and LTZ — as well as two separate mechanical upgrades available.
The base $13,735 LS model gets you the sedan with a 135-horsepower, 1.8-liter four-cylinder engine and five-speed manual transmission, 15-inch alloy wheels, air conditioning, power door locks, remote keyless entry, and a tilt/telescopic steering wheel.
The hatchback body style costs an extra $900, or $14,635. A six-speed automatic transmission costs an extra $1,070.
If you want power windows, you'll have to upgrade to the LT trim, which starts at $14,935 for the sedan and $15,735 for the hatchback. That trim also gets you heated power side mirrors and a six-speaker stereo.
The LTZ trim starts at $16,535 for the sedan ($17,235 for the hatchback) and adds a USB port, Bluetooth connectivity, steering-wheel-mounted controls, heated front seats, cruise control, fog lamps and 17-inch alloy wheels.
The LT and LTZ trims can be optioned with an available 138-hp, turbocharged 1.4-liter four-cylinder and a six-speed manual transmission for $700. The powertrain can achieve 40 mpg on the highway, GM says.
If you look at the competition, the Sonic is less of a value compared with the 2012 Hyundai Accent. Equipped with an automatic transmission, the Accent costs $15,195 and gets you features like a USB port and power windows and mirrors. A similarly equipped Sonic would cost $16,005 and still would lack features like a USB port. Also, if GM is touting the 40-mpg figure on the uprated engine, we'd have to assume the base powertrain will be less fuel efficient compared with the Accent's 30/40 mpg city/highway rating. The 2011 Ford Fiesta is slightly less expensive with similar equipment, costing $15,595. Even a 2011 Honda Fit is less expensive, at $15,900 with similar equipment plus added goodies like cruise control.
Again, this is not to say the Sonic isn't competitively priced; it's within $100 to $900 of its competition. Also, some people will be enamored by the fact that the Sonic is the only American-assembled subcompact offering. And did we mention the 10 airbags?
Full assessment on the Sonic's value will have to be made once safety and fuel economy ratings are released. Production of the Sonic begins in August, and it is expected to arrive at dealerships a few months afterward.