Ford Announces 1-Liter EcoBoost Engine, New Transmissions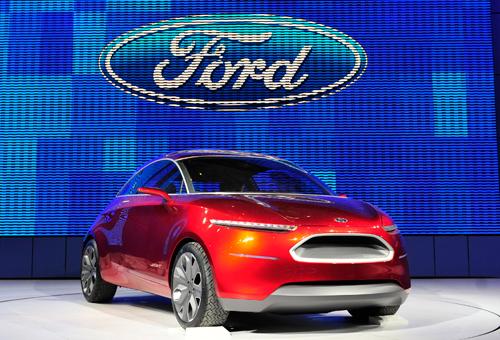 Ford is adding a new engine to its North American and global vehicle lineups that has the same displacement as a common size for a water bottle: 1 liter. The three-cylinder mini-mill is the smallest engine Ford has ever built. Ford first mentioned the engine with the Start concept car — shown above — when it was rolled out at the Beijing auto show last year.
Like other Ford EcoBoost engines, it uses high-pressure direct gas injection and turbocharging to get better performance and up to 20% better fuel economy compared with larger-displacement engines. V-6 engines perform like V-8s, and four-cylinder engines perform as if they had six cylinders. In this case, a three replaces a four.
But the 1.0-liter EcoBoost packs other advanced fuel-saving features, some of which Ford is offering for the first time.
A split-cooling system allows the cylinder block to warm up before the cylinder head. This will help save fuel during cold weather or short trips because oil and engine fluid viscosity rises as temperatures fall, so more work and more fuel is required to overcome friction in the powertrain.
An offset crankshaft improves fuel economy by reducing engine friction during combustion. The crank bore is moved slightly to the side instead of directly below the cylinder bore so maximum combustion pressure happens at the point where the connecting rod (which connects the crank and piston head) is straight up and down in the cylinder instead of at an angle where rotational side forces add friction and reduce efficiency. Toyota and Honda have used similar construction in their small engines. Joe Bakaj, Ford's vice president of global powertrain engineering, said friction is reduced by three to five percent while returning one to two percent better fuel economy.
The exhaust manifold is combined with the cylinder head in a single-piece casting instead of bolted on. The one-piece assembly lowers the temperature of the exhaust gases and saves weight.
Bakaj said customers aren't counting cylinders or displacements anymore. "Customers are looking at performance and what the engine does for me," he said, adding that the engine will have the same performance as a 1.6-liter naturally aspirated four-cylinder, "but much higher fuel economy."
The 1.0-liter three-cylinder was first shown in the Ford Start concept car and it recently made its European debut in the Ford B-Max at the 2011 Geneva International Motor Show. We expect it will be used in Ford's small cars, including the Fiesta, Focus and upcoming C-Max compact multipurpose vehicle.
New Hybrid and Conventional Transmissions
Ford also announced it will build a new hybrid transmission and an advanced eight-speed automatic gearbox that will be available across a wide range of its vehicles.
The new hybrid transmission is an e-CVT, or electronic continuously variable automatic transmission. It promises improved performance over the current gearbox, which allows the current Ford Fusion to reach a top speed of 47 mph on electricity and go as far as one mile.
The fuel-saving eight-speed transmission will feature:
Next-generation clutch controls
An input torque sensor that measures torque coming into the transmission, enabling faster gear selection, reducing gear hunting and helping smooth out shifts
Actuators built into the case for tighter, more precise control of hydraulic pressure