Ford Cancels 7-Seat C-Max For U.S.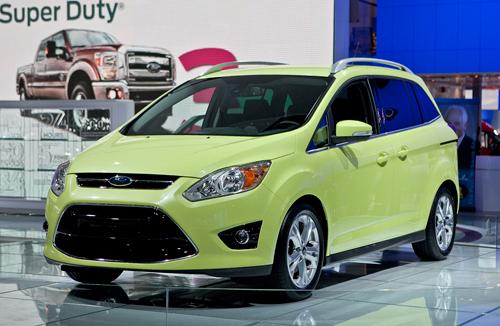 Ford was all set to bring its small seven-seat minivan dubbed
the C-Max to the U.S. at the Detroit auto show
this past January. That was when we got a good look at this small people-mover that is similar to the Mazda5. Ford said today it no longer plans to sell the seven-seat C-Max in the U.S.
The C-Max offers minivan seating capacity without the size and price tag of traditional minivans, along with better gas mileage. The Mazda5 is seeing an uptick in sales, too. Year-to-date sales of the redesigned Mazda5 are up 22%, outpacing the rest of the company's lineup.
However, the volume remains quite low for the Mazda5, and that might be why Ford nixed the C-Max. A smaller version that seats five will go on sale in the U.S. as an electric and hybrid vehicle with no standard gasoline option.
It seems that Ford thinks it has the pulse of American consumers who are still snapping up the new Explorer despite $4 gas prices. Of course, they're also buying a lot of Fiestas and Focuses, Focii … well, the other small Ford.
There doesn't seem to be any other automaker stepping up to the plate in the small people-mover space, either. GM has decided not to sell the Orlando — a similar vehicle — in the U.S., and Kia discontinued its Rondo last year. Perhaps Mazda can make some noise out of this news for its Mazda5. It's a nice vehicle that now resides in a niche of one.