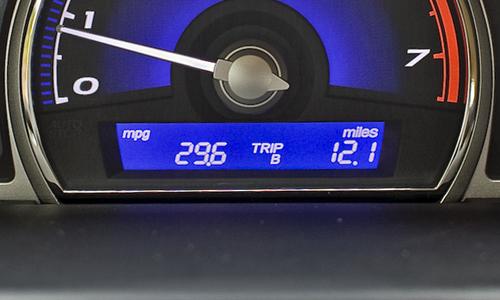 As gas prices remain high, car shoppers are beginning to reconsider their priorities when choosing their next vehicle, according to the U.S. Department of Energy.
The federal department conducted a survey this month asking respondents to select the most important attribute when shopping for a new car. Choices included fuel economy, dependability, price and quality.
Over the past 30 years, dependability has usually beaten all the other attributes in the survey. But this year, fuel economy took the top spot.
Nearly 30% of survey respondents chose fuel economy, while 22% picked either dependability or safety. In 2000, just 11% of respondents selected fuel economy while 33% considered dependability and 24% considered safety. To find a time when fuel economy beat out dependability by a healthy margin, you'd have to go all the way back to 1980, when oil prices reached a then-all-time high as a result of the Arab oil embargo.
There's a strong correlation between the cost of gas and car shoppers caring about fuel economy above all other factors. What is surprising is that car shoppers are more concerned about fuel economy than they were in 2008.
Fuel economy and dependability were tied for the top attribute in 2008, at 27%. That's when gas prices peaked at their all-time historical highs, beating the high-water mark of 1980 after adjusting for inflation, according to AAA. Today, prices aren't that far off from those of 2008, due to unrest in the Middle East and North Africa, along with improvements in the global economy.
Consumers might also be less optimistic that gas prices will return to a sub-$3-per-gallon rate this time around. Maybe, too, that since cars are lasting longer with fewer breakdowns, reliability is taken more for granted nowadays.
Would you choose a car that got superb fuel economy but was less dependable?
Fuel Economy Is 'Most Important' When Buying a Vehicle (U.S. Department of Energy)