2012 Mitsubishi i EV Bests Nissan Leaf's "Fuel" Efficiency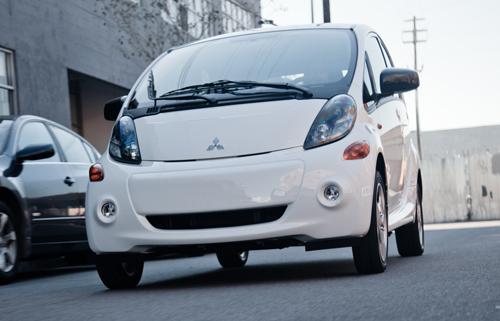 Mitsubishi announced that its small electric vehicle, the Mitsubishi i, has achieved an EPA fuel-efficiency rating of 112 MPGe. That number beats the Nissan Leaf's 99 MPGe and makes the Mitsu the most fuel-efficient car tested by the EPA.
For folks who aren't familiar with the recently coined measurement, MPGe stands for miles per gallon gasoline equivalent. It's supposed to translate the energy consumption of alternative-fuel vehicles into relatable terms.
At a more granular level, the i (previously known as the i-MiEV) is more fuel efficient in the city than on the highway; the same is true for the Leaf. The i gets 126 MPGe in the city and 99 MPGe on the highway. Real-world electric range is estimated at 62 miles, more than 10 miles less than the Leaf, the EPA says.
Since the Mitsubishi i is significantly smaller than the Leaf, the latter remains the most environmentally friendly midsize car.
The Mitsubishi i goes on sale in select markets this fall, with a starting price of $27,990 before federal tax breaks. A nationwide rollout is scheduled for November 2012.
Related
Mitsubishi i Electric Car To Start at $20,490
Mitsubishi i-MiEV: First Look