54.5 MPG CAFE Agreement Reached for 2025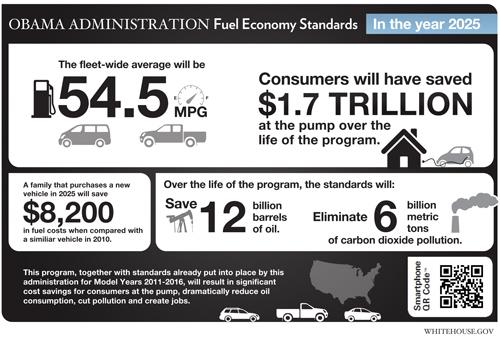 Today, President Barack Obama, flanked by automotive executives in front of a backdrop of efficient cars, announced that a new corporate average fuel economy standard had been reached. By 2025, cars and light trucks would achieve a 54.5 mpg fleet average compared to the current 27.5 mpg.
CAFE figures use a complex calculation and also include different credits so every car wouldn't necessarily get an EPA rating of 54.5 mpg. According to the Natural Resource Defense Council, the 54.5 mpg figure would translate to a still respectable 50 mpg after certain credits are taken into account.
The agreement was reached between automakers, environmentalists, the state of California and the White House. California agreed not to challenge the national average with a higher rate of its own.
A final document detailing the plan has not been released. The above graphic shows the plan's impact and was released by the White House today.