BMW i8 Concept: First Look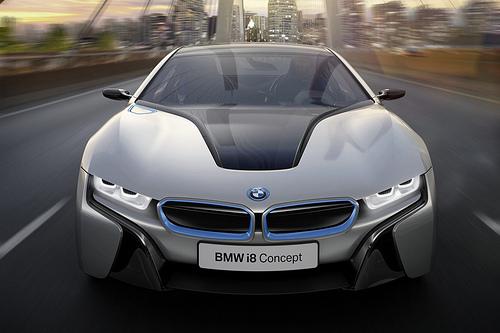 Looks like: The Fisker Karma has a legit competitor
Defining characteristics: Electric motor up front, turbocharged gas engine out back and a lithium-ion battery in the middle
Ridiculous features: Huge transparent doors
Chances of being mass-produced: BMW says the i8 will launch in 2014
BMW is giving the idea of a sports-car hybrid a shot with its plug-in i8 concept that promises an estimated zero to 62 mph time of less than five seconds. It can fit four people and has an all-electric range of 20 miles.

The i8's rear-mounted gasoline engine — a 220-horsepower, turbocharged three-cylinder — drives the rear wheels and acts as a generator to charge the lithium-ion battery. The battery gives juice to the electric motor driving the front wheels, essentially creating an all-wheel-drive hybrid sports car. BMW says this setup combines the advantages of front-, rear- and all-wheel drive.

The lithium-ion battery can fully charge in two hours and power the i8 for 20 miles on electric-only power. To keep weight low, carbon-fiber-reinforced plastic is used throughout the car, including the passenger compartment's shell. BMW says the material is 50 percent lighter than steel but just as strong. The existing weight is balanced perfectly with 50/50 weight distribution because of the two powertrains over each drive axle.

Using the European driving cycle for gas mileage, BMW estimates gas mileage of 94 mpg. As an indicator that the i8 is a sports car, BMW has separate estimates for spirited drivers, ranging from 40.4 to 56.5 mpg during hard driving.