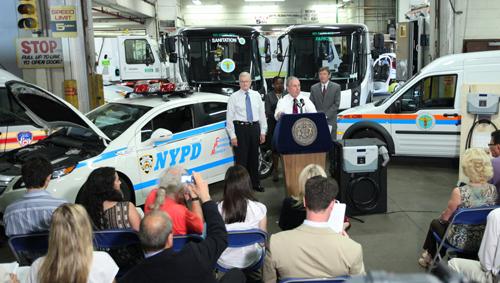 There's a new silent predator on the streets of New York City, seeking out freeloaders and the crooked. No, we're not talking about some real-life Batman, but if you're accustomed to dodging parking meter fees in New York, you might want to watch out for the city's latest addition to traffic enforcement: the Chevrolet Volt. The Volts will be used to cruise the city to issue parking tickets … not to go on high-speed pursuits.
The new Volts are part of a recent purchase by the New York government totaling 70 new electric vehicles: 50 Volts, 10 Ford Transit Connect Electrics and 10 Navistar eStar utility trucks. The Fire Department, Department of Correction and other agencies will also get EVs.
New York already has 360 electric vehicles in its municipal fleet. With the latest batch, the city now runs the largest fleet of electric cars of any municipality in America.
Chevy Volt Newest New York City Police Car (CNN Money)