Rolls-Royce President Talks Electrics, High-Tech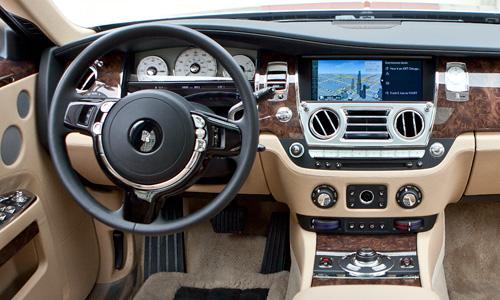 The Rolls-Royce Phantom sedan has enough room to cross your legs in the backseat without touching the front seats: one foot propped sideways and the other buried an inch deep in carpet. It's not a shabby place to sit — and probably better than chatting outside, Rolls-Royce's David Archibald tells me. He and I are at the jam-packed opening of a Rolls-Royce dealership in Chicago's moneyed Gold Coast neighborhood. Archibald, 53, is a sum manifestation of today's global auto industry: a Scotsman who's president of the North American arm of a British carmaker owned by Germans. BMW has controlled Rolls-Royce since 1998, and Archibald has been with the brand since 2002.
Product changes come slow in the ultra-luxury business and the lengthy product cycles risk having cars with outdated technology. Take the Phantom. It dates back to late 2003 and still employs an early generation of BMW's iDrive interface. The smaller Ghost, introduced for 2010, has BMW's latest generation of iDrive, which is far more workable.
Then again, with 11 bull hides and 10 square meters of wood inside a Phantom's cabin, it's a long shot whether any Rolls-Royce customer gives a whit about outdated electronics. After all, most Patek Philippe timepieces don't include a stopwatch.
As with any automaker, product updates require enough return on investment, Archibald says. What's more, Rolls-Royce buyers appreciate a certain timeless nature to their purchase: "Our customers wouldn't like it if we changed things every two years," he says.
But change must come, eventually. Rolls-Royce rolled out an electric-powered Phantom concept, dubbed the 102EX, last January. The car is now on an international tour, with Rolls-Royce corralling owners worldwide to drive the car back-to-back with a Phantom and provide feedback.
"If you'd have come here 12 months ago and asked our customers, 'What do you think about alternative fuels,' they would have said, 'What are you talking about,'" Archibald says. That's starting to change, but Rolls-Royce isn't simply jumping on the green bandwagon: "It's really too early to say" if the carmaker will produce an electric or hybrid model, he adds.
If that's the way things pan out, BMW's tutelage should help. From the Mini E to the coming, 1 Series-based ActiveE, the automaker is putting forth its share of electric vehicles. And Archibald says Rolls-Royce models like the Phantom "could not exist on its own without a tie-in to something else."