What Do These Buttons Do?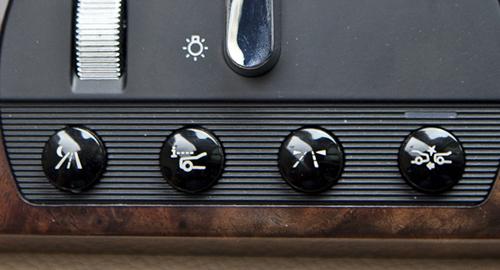 Ultra-luxury cars like the 2011 Rolls-Royce Ghost have unique features not found in more pedestrian cars; does your Toyota Camry have an umbrella dispenser inside the door? Unique features are why mysterious buttons flourish inside the Ghost. The most notable is a cluster of four buttons below the headlight controls.

These buttons may not be so mysterious to some BMW owners, because BMW is Rolls' parent company and the Ghost's platform is based on the 7 Series. That means there are at least four things familiar to 7 Series owners ready to make a $150,000 jump to the Ghost – most everything else is uniquely Rolls-Royce.
Not to be confused with Saab's
Night Panel
that changes gauge luminescence, the Ghost's half-moon button activates Night Vision. Complete with hidden infrared camera and dashboard display, Rolls-Royce says it can detect pedestrians up to 300 meters away and alert the driver.
Directly to the right of the Night Vision button is a floating "i" that identifies the on/off button for the Ghost's head-up display. The head-up display projects speed, navigation directions and other information onto the specially coated windshield where it's viewable only from the driver's sight line.
The third button from the left turns on the lane departure warning system, which gently vibrates the steering wheel when the Ghost veers out of its lane.
The last button to the far right is adaptive brake assist. When turned on, visual and audible warnings alert the driver if a car in front of the Ghost abruptly decelerates. Braking power is adjusted during emergency braking, and only after the brakes are applied.
And the cost of these features? That's $9,950, which is not included in the Ghost's $246,500 base price.