2012 Jeep Wrangler Rated at 21 MPG Highway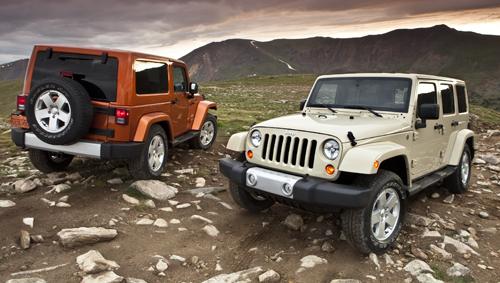 We reported earlier that the 2012 Jeep Wrangler and Wrangler Unlimited would shed their old pushrod V-6 engines and four-speed automatic transmissions for Chrysler's more modern Pentastar V-6. Today, we learned that the new setup earned a 17/21 mpg city/highway rating from the EPA. It also gets 18 mpg combined city/highway. That EPA rating is for the traditional two-door Wrangler, with either a six-speed manual or the new for 2012 five-speed automatic transmission.
While that score may not sound amazing in a world of 40 mpg compact cars, it's considerably better than the 15/19 mpg rating of the 2011 Wrangler.
The 2012 Jeep Wrangler Unlimited gets a rating of 16/21 mpg with a six-speed manual and 16/20 mpg with the five-speed automatic. Both models come with standard shift-on-the-fly, full-time four-wheel-drive system.
Jeep still hasn't announced power ratings for the Wrangler's new 3.6-liter V-6 engine, but we know it will be substantially more powerful than the anemic 202-hp, 3.8-liter V-6 found on the 2011. So far, Chrysler's new V-6 has produced anywhere from 283 hp on the 2011 Chrysler 200 and Dodge Grand Caravan to 305 hp on the 2011 Dodge Challenger.
We already have 75 listings on Cars.com for the 2012 Wrangler, and there are plenty of window stickers and VIN codes floating around the internet for the 2012 model, which leads us to believe the model is or will soon be on sale.
Related
Chrysler Details Future Upgrades to 2012 Jeep, Dodge, Fiat Vehicles