2012 Mercedes-Benz SLK55 AMG: First Look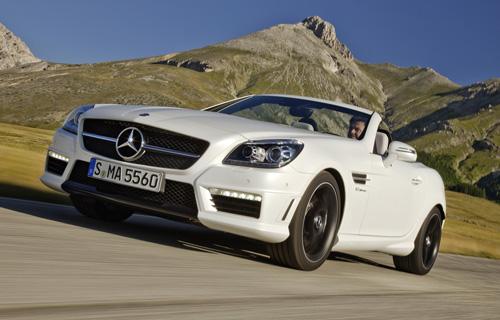 Competes with: BMW M3 convertible, Audi TTS roadster
Looks like: AMG name is again a part of the SLK lineup
Drivetrain: 415-hp, 5.5-liter V-8 engine with a seven-speed automatic transmission
Hits dealerships: Early 2012
Mercedes-Benz has revived its high-performance AMG trim (absent for the 2011 model year) for the redesigned 2012 SLK-Class.
The 2012 SLK55 AMG features the only V-8 powertrain offered on the roadster. Like the four-cylinder and six-cylinder, which feature new fuel economy measures, the new V-8 is also more fuel efficient and powerful than its predecessor.
The 415-horsepower 5.5-liter V-8 produces 60 hp more than the last generation's 5.4-liter V-8. That's achieved through a high-pressured fuel-injection system and high compression ratio compared with the outgoing model. The 2012 model can accelerate from zero to 60 mph in 4.4 seconds (three-tenths of a second faster than the previous generation) and can reach a top speed of 155 mph.
The new V-8 gains fuel efficiency by implementing stop/start technology and cylinder deactivation and by using more lightweight aluminum in the casting of the powertrain. Mercedes says the new motor will be "significantly" more fuel efficient than the outgoing V-8, but didn't mention actual figures. (The old model achieved 14/22 mpg city/highway.)
Besides the V-8 powertrain, the AMG model distinguishes itself from the regular trims through AMG-specific aesthetic upgrades: light-alloy wheels, a large front air dam, ground effects kit, a spoiler lip and chrome-plated twin tailpipes.
On the inside, the SLK55 AMG gets a center console analog clock, aluminum trim and pedals, AMG-specific steering wheel, unique instrument cluster and sport bucket seats. The SLK55 also features a standard hardtop retractable roof with a full glass pane that can be electronically switched to be transparent or opaque.
Mercedes hasn't announced pricing yet for the model. The 2011 SLK350 starts at $54,800, and the last-generation 2010 SLK55 AMG started at $66,650.
The 2012 SLK55 AMG goes on sale in early 2012.