2012 Toyota Yaris Starts at $14,115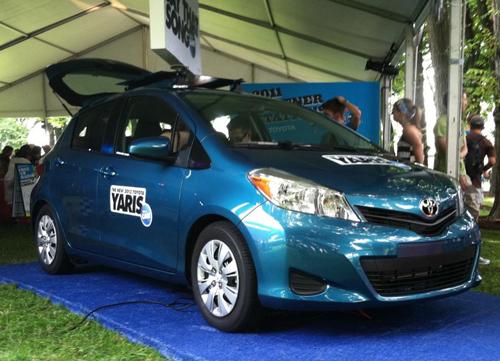 Late last week we showed you some
exclusive shots of the U.S spec redesigned 2012 Toyota Yaris hatchback
. Still without any official U.S. press shots or info about the powertrain, the automaker announced today that the new model will start at $14,115 for the two-door hatchback, excluding a $760 destination fee. That's about $1,000 more than the 2011 model; the four-door hatch starts at $15,140 (up $1,685). There's no next-generation sedan model, at least not at launch.
That entry price makes the Yaris four-door hatchback more expensive than almost all its competitors: the 2012 Chevrolet Sonic ($14,635), 2011 Honda Fit ($15,100) and 2012 Hyundai Accent ($14,595). Only the 2012 Ford Fiesta costs more ($15,500).
Toyota says that price increase includes $1,000 worth of new standard equipment compared with the outgoing model. Toyota says that extra standard equipment includes many of the features that come with the 2011 Yaris' Convenience Package, such as a split-folding rear seat, CD player and larger windshield washer fluid tank.
The two-door body style only comes in base L trim with either a five-speed manual or four-speed automatic transmission, a $725 option. The four-door hatchback comes in L, LE and a sporty SE trim. The SE trim has an "enhanced tuned" suspension, Toyota says.
The next-generation Toyota Yaris goes into production at the end of this month. Complete trim, powertrain and gas mileage details will be announced closer the vehicle's launch.
Continue reading below for more pricing details:
2012 Toyota Yaris pricing
Two-door Yaris L (manual transmission): $14,115
Two-door Yaris L (automatic transmission): $14,840
Two-door Yaris LE (auto): $15,625
Four-door Yaris L (auto): $15,140
Four-door Yaris LE (auto): $16,100
Four-door Yaris SE (manual): $16,400
Four-door Yaris SE (auto): $17,200
Destination: $760