Cadillac Ciel Concept: First Look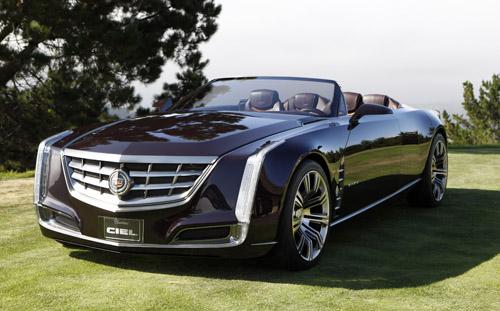 Looks like: A modern-day Cadillac Eldorado
Defining characteristics: Pronounced tailfins, massive power dome hood
Ridiculous features: Didn't you read the word "tailfins" above?
Chances of being mass-produced: Unlikely
Cadillac is really shaking things up this week. First, GM's luxury brand did an about-face by saying it would indeed produce a luxed-out version of the Chevy Volt, called the ELR. With barely any time to digest that news, here comes the Cadillac Ciel concept.
The Ciel, pronounced "C-L," is a four-door convertible that shows off Cadillac's next iteration of its "Art & Science" design language made popular by the original 2002 CTS sedan. The concept packs a hybrid, twin-turbocharged V-6 powertrain, the same that was shown on the XTS concept.
But the powertrain isn't important here — it's the design. Cadillac has pulled many elements from its heritage and has reinterpreted those cues to come up with a look that's compelling and distinctive.
Overall, you still see a lot of contemporary Cadillac design elements — from the CTS and SRX — but it's more organic-looking and less angular here. Up front, there are large vertical LED headlights integrated into the front wheel arches, and a high-waisted shield-shaped grille. Combine the front-end look with the large power dome hood, and the face is generally reminiscent of the
Ford Interceptor Concept
overall.
Out back, Cadillac is getting a little more aggressive with its tailfin rear lamps (you can see nymph versions of this on the SRX and XTS concept). The cabin is more ornate than the one we saw on the meticulous XTS — there's olive wood and brushed aluminum trim here. The cabin features three pull-out blankets that retract automatically, just in case all three passengers need to stay warm with the top down.
Needless to say, the Ciel isn't an indication of a production-ready car. However, part of GM's just-announced long-term strategy is to take Cadillac global and have it compete better with the likes of Lexus, Mercedes-Benz and BMW with what the automaker says will be "visceral" and "powerful" vehicles for people with "unmistakable swagger." The Ciel is certainly unmistakable.