Consumer Reports Not Recommending 2012 Honda Civic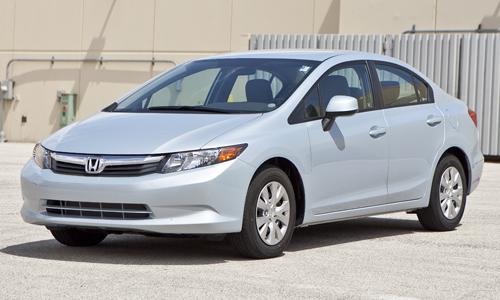 The 2012 Honda Civic scored too low in Consumer Reports' road test to be recommended despite above-average reliability and high gas mileage, the publication said.
The ninth-generation Civic scored 61 out of 100 in the latest round of testing, placing second-to-last in Consumer Reports' small-sedan category. The new Volkswagen Jetta still has the lowest score. The Hyundai Elantra, Subaru Impreza and Toyota Corolla still rank at the top and are recommended by Consumer Reports.
The low score is in stark contrast to the previous-generation Civic, which was the highest-rated small car at the publication. Consumer Reports gave the 2012 Civic average scores in areas such as acceleration, emergency handling, braking, ride comfort and tire noise. The publication was also disappointed with the interior, saying it shows signs of apparent cost-cutting throughout. Trunk space is also not impressive.
On the plus side, Consumer Reports said the 2012 Civic recorded an average fuel economy score of 30 mpg, second only to the Corolla in the field.
Our opinion of the new Civic differs from Consumer Reports. In our testing, the sedan proved to be a very good car despite the incremental feel of the updates. The Civic finished in second place in our Under 20/Over 35 Shootout.
Last fall the publication stopped recommending most eighth-generation Civic trims because they lacked standard or optional electronic stability control; the Hybrid and Si Civics remained recommended. The 2012 Civic comes with electronic stability control standard.
Related
2012 Honda Civic Review
Under 20/Over 35 Shootout: Results
Consumer Reports No Longer Recommends Some Honda Civic Trims