Ford Recalls 1.1 Million F-150, F-250 Trucks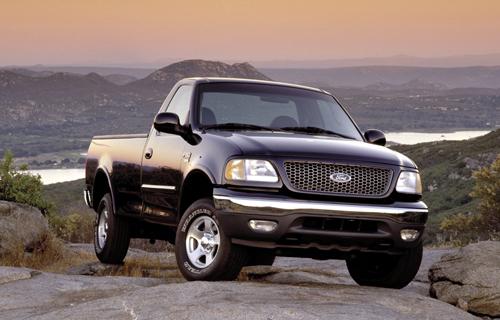 Ford is recalling 1.1 million trucks because in certain cold-weather states, road chemicals can corrode the fuel tank straps. This could lead to both fuel lines detaching from the tank or the tank falling off entirely and hitting the ground. Both situations would be a fire hazard for drivers.
The recall is extensive, covering the following models built between June 20, 1995, and Aug. 4, 2004:
1997-2003 F-150
2004 F-150 Heritage
1997-1999 F-250 with gross vehicle weight rating of less than 8,500 pounds
2002-2003 Lincoln Blackwood
You can check your truck's build date on a label on the driver-side doorjamb.
The recall will begin on or around Sept. 12 in Connecticut, Delaware, Illinois, Indiana, Iowa, Kentucky, Maine, Maryland, Massachusetts, Michigan, Minnesota, Missouri, New Hampshire, New Jersey, New York, Ohio, Pennsylvania, Rhode Island, Vermont, West Virginia, Wisconsin and Washington, D.C.
Dealers will replace the straps with new ones with increased corrosion protection. If no straps are available, the dealer will install a cable support as an interim repair until new straps are available.
Owners can call Ford at 866-436-7332 or the National Highway Traffic Safety Administration at 888-327-4236.