How Affordable Is the 2012 Toyota Camry?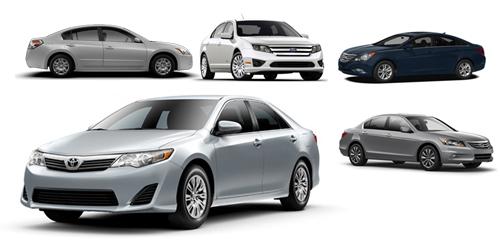 Toyota showed off its 2012 Camry to a discerning public yesterday. The new version of America's top-selling sedan goes on sale in October, with the Toyota Camry Hybrid following in December.
Related
2012 Toyota Camry Review
2012 Toyota Camry Hybrid Review
2012 Toyota Camry: Trim Level Breakdown
2012 Toyota Camry Photo Gallery
Although Camry shoppers will see numerous improvements — slightly better ride and handling, a more luxurious interior and improved fuel economy — there's the unfortunate reality that the Camry's introductory price has inflated to $21,995 excluding $760 for destination. That's $1,800 more than the 2011 Camry.
But the price increase doesn't tell the whole story. The new Camry packs a lot more value and is more competitively priced than its predecessor.
Below, we compare the Camry's value to its three closest competitors in terms of sales — the Nissan Altima, Ford Fusion and Honda Accord — and we'll throw in the up-and-coming Hyundai Sonata for good measure.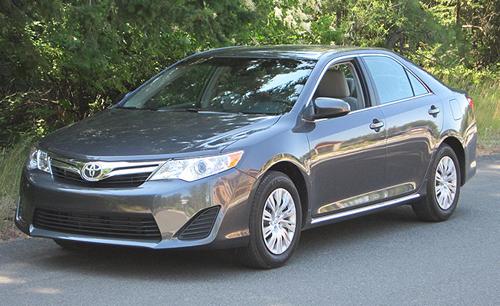 The base Camry L trim comes with air conditioning, cruise control, power accessories, Bluetooth, iPod-compatible stereo and an automatic transmission standard. All Camrys get 10 airbags standard – that beats everyone in this comparison. Here are the prices of the similarly equipped competition: Altima, $20,270; Sonata, $20,695; Fusion, $20,745; and Accord, $22,180. It's important to note that the Altima and Fusion can't be equipped with Bluetooth or a USB port but have other standard features, such as push-button start (Altima) and alloy wheels (Fusion), that balance out the value equation.
The 178-horsepower four-cylinder in the 2012 Camry achieves 25/35 mpg city/highway, better than all the competitors here. The Sonata is the closest at 24/35 mpg.
Toyota acknowledges that not many car shoppers are going to buy the L trim, which is built mainly for commercial fleets, not consumers.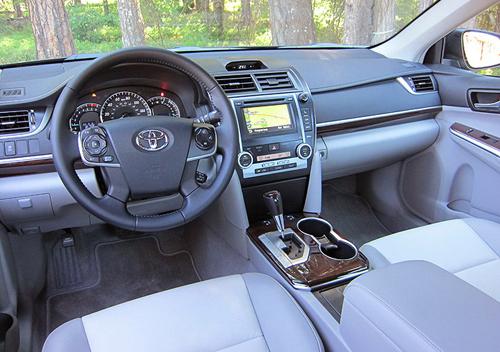 A better comparison of value to car shoppers is what Toyota says will be its bread-and-butter Camry trim, the LE, which starts at $22,500, $200 less expensive than the 2011 Camry LE with an automatic. That model gets all the above features in addition to a 6.1-inch touch-screen, automatic headlamps, Bluetooth music streaming, remote keyless entry and steering-wheel-mounted controls.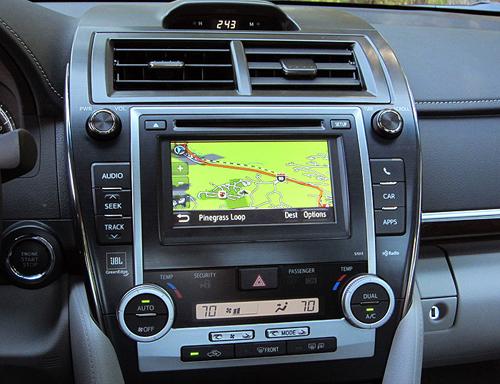 None of the competition offers a touch-screen at this price point. In fact, a touch-screen interface isn't common in a family sedan right now unless you spring for a navigation system. Barring the touch-screen, competitors price their products at $23,060 for the Altima and $23,225 for the Fusion. The Accord and Sonata don't have comparable trim levels.
For 2012, Toyota has pushed the 268-hp V-6 further out of reach for the average consumer. The high-powered V-6 is available only on the SE and XLE trims, and you must opt for even more feature content for the powertrains. The SE V-6 starts at $26,640, which is $1,275 more than the most affordable 2011 V-6 Camry LE. The model ekes out slightly better fuel economy at 21/30 mpg, but it's more fuel efficient than V-6 equipped versions of the Fusion (18/27 mpg), Accord (20/30 mpg) and Altima (20/27 mpg). The Sonata's turbocharged four-cylinder is more fuel efficient at 22/33 mpg and packs more power. Comparable high-powered competition starts with the Sonata at $24,645, Altima at $25,430, Fusion at $26,910 and Accord at $27,280.

The Camry Hybrid's new pricing strategy is where the model really shines in terms of affordability. There are two trims for 2012: LE and XLE. The LE starts at $25,900, about $1,150 less expensive than the 2011 model, and returns 43/39 mpg and 41 mpg combined. This clobbers the similarly priced ($25,795) Hyundai Sonata Hybrid's 37 mpg combined score. The Ford Fusion Hybrid is nearly as competitive at 39 mpg combined, but the model is more expensive at $28,600.
Even at that price, the fully loaded Camry Hybrid XLE — which includes features like an eight-way power-adjustable driver's seat, auto-dimming mirror, rear air vents, leather-wrapped steering wheel with audio controls and a 6.1-inch touch-screen – is less expensive at $27,400.

Ultimately, what we have here is a pretty competitive car in terms of value depending on what you're looking for. If you're looking for leather or alloy wheels at the cheapest available price, the Camry isn't likely the best candidate. (Go check out the Fusion SEL or Accord SE for that.) If you're looking for the lowest price with the most features, the Sonata is probably the best choice.
Where the Camry really shines is its LE trim, which offers novel features such as a touch-screen and audio streaming at a price in between the competition's base and midlevel trims. If you're looking for an affordable hybrid sedan, the Camry Hybrid is impossible to beat once you account for annual fuel costs.