Panoramic Sunroofs Gain Popularity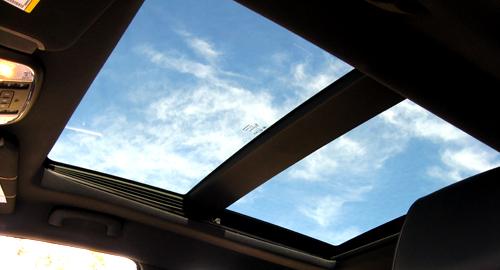 Large panoramic sunroofs are raking in the sales among luxury as well as non-luxury brands, reports The Detroit News. Buyers are willing to part with $1,000 to $2,000 for the open-air feeling they provide. Automakers like Ford, Buick, Cadillac, Lincoln, Jeep and Chrysler all reported that up to half of buyers are choosing the large sunroofs when offered.

Compared to a traditional sunroof, panoramic sunroofs have a sliding glass panel up front with a fixed skylight extending to the rear seat. They are quickly becoming the only sunroof option on many cars and SUVs, like the Ford Explorer and Edge SUVs plus others mentioned below.
Half of new Ford Explorer orders demand the sunroof option with its large, dual-pane glass, while 56 percent of Edge buyers want the option. It costs $1,595 on Explorer and Edge Limited models as a stand-alone option, but it must be equipped with an option group on lower trim levels.
Buick's large Enclave crossover SUV and LaCrosse sedan offer panoramic roofs that so far this year make up 55 percent and 47 percent of sales, respectively. Buick charges $1,400 for the dual-pane option on the Enclave and $1,195 for the LaCrosse's sunroof and skylight.
Chrysler's new V-8-powered 300C is seeing 70 percent of buyers choosing the large sunroof ($1,295). Even the less-expensive six-cylinder Chrysler 300 has a third of buyers choosing the same sunroof.
Panoramic sunroofs let in much more light than a standard-sized roof, and in our experience they can even make the inside of a small car feel larger. The initial cost may not be a huge detractor because, as The Detroit Times reports, the feature also adds to the residual value of equipped vehicles.
Panoramic view goes through (sun) roof
(The Detroit News)